A day in the life of a Baker
Guten Morgen! It is 3 am and I am ready to "rock and roll".
My name is Roland Pfefferle and I am baker with heart and soul. Of course it is not easy to get up this early and at times not to be able to party with the others can be a shame but on the other hand, I am off during the day and therefore get to see a lot more of the places that the ship goes to which is great.
I am used to geting up early, since I completed my 3 year apprenticeship as a baker when I was still in Germany, I have now been doing this job for 5 years now.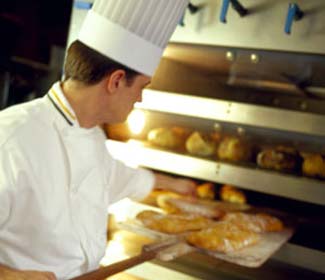 Here onboard one of the main skills you need to have is to be able to plan well, having all the necessary ingredients for bread rolls, special bread, baguette, croissants, pastries and the likes onboard is crucial. While I have learnt to make all the dough for all the above from scratch, onboard a ship many items come pre-baked and often pre made dough mixes are used. It isn't a suprise however as we need to feed 3000 guests and 1000 crew members. So the Croissants and the pastries come in pre-packed and so they only need to go on a baking tray and put into the oven so that is my first task.
Next I make the dough for the toast bread and the baguettes and bread-rolls. The baguettes we make are either with sesame seeds, poppy seeds or plain. For the bread-rolls we have quite a variety and so this depends on the menu. We make them with onions, olives, dried tomatoes and herbs.
At the buffet upstairs, our early bird breakfast starts at 5:30 am, so toast bread (which I prepare the day before) croissants and pastries need to be ready by 5:00 am for the buffet stewards to pick up.
The baguette and plain bread rolls take the most time, so I start with the dough for these and will work on them for most of the night. There is hardly anyone around, so it is quiet and I can work at my own pace, as long as everything is ready in time.
We also have specialty bread every day, depending on the menu. Later today is Italian night, so I need to prepare Focaccia for dinner time.
Roland Pfefferle, Germany