A day in the life of a Bartender
As a Bartender onboard a cruise ship, I generally work in 12 hour shifts which are usually split as I am not expected to work an entire shift of 12 hours in one go - especially as shifts on board cruise ships do not always end after 12 hours!
The morning shift starts around 9am, 1 hour before the bar opens. My first duty of the day is to prepare the bar by restocking with all the necessary provisions, eg coffee, tea, soft drinks, juices, beer, alcoholic beverages etc, which need to be collected from the ships provision area. Restocking depends on the Requisition, which has been prepared the night before according to what has been sold.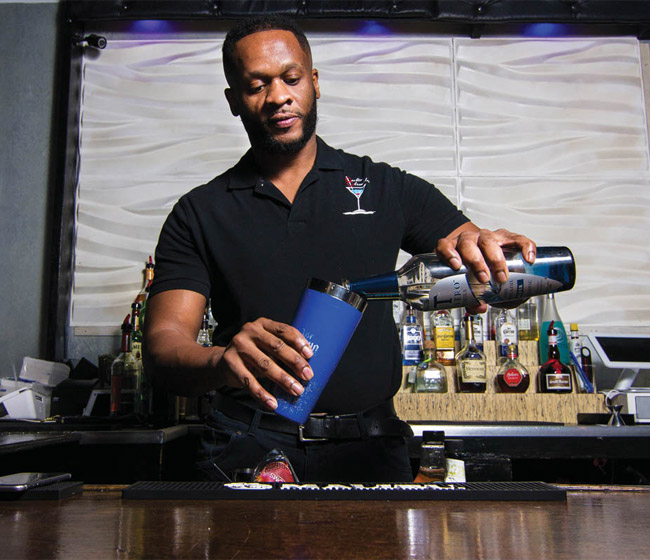 I will also need to prepare snacks and fruits for garnishing cocktails. Depending on the guidelines of the Bar Department, several different garnishes need to be prepared, from celery sticks to pineapples, limes and lemons.
After restocking the fridges with cans and bottles, the ice machine needs to be checked and the glass washer switched on.
Once the bar is prepared, it is time to open the bar for the guests and begin mixing drinkings and serving hot beverages and snacks as required.
When I am working behind the bar I am not only preparing and serving the beverages, but also taking payment from the guests using the ships on-board accounting system.
Serving the guests is always my priority, however during quiet periods I must ensure that the bar remains clean by wiping out fridges (including the gaskets), washing work utensils, mopping the floors and other cleaning duties as required.
Guests often like to chat with me, so I must always be friendly and available to make small talk if required.
During the morning shift I have a break after approx 4 hours, and will finish the shift later in the day. During this break, depending on the ships schedule and the safety trainings, I might go ashore.
My evening shift is often busy, so it is important to prepare the bar well and restock during the day.
At closing time, I store away all the beverages, lock the fridges and cabinets, clean the bar, utensils and glasses.
I am also responsible for preparing the Requisition for the next day, depending on what has been sold, to enable to bar to be restocked during the morning shift. This is done via the on-board accounting system by closing the POS system and handing all papers over to the Night Auditor.
So ends another busy day as an On-board Bartender!
Neville Harris, Jamaica