A day in the life of a Cook
Welcome to my little corner of the Garde Manger, in this huge Galley which is responsible for providing food and snacks to 3000 guests.
I am Michael, I come from Germany and I am cook in the cold Galley. We prepare all the salads, cold appetizers and the fruit and vegetables carvings which decorate all the buffets.
Before getting this job on-board a cruise ship I did a 3 year apprenticeship as a cook, and worked in various departments of different galleys within hotels and restaurants.
I work in a 2 shift system on most days – preparing everything for the lunch and dinner service, and of course being in the galley during lunch and dinner times. I work with several assistant cooks who help me with the task of feeding all these hungry people.
Yesterday I prepared my requisition for the food items I will need today. So according to the menu for today, I gave my order to the provision master, to prepare all the vegetables, salads, fruits and other items I need.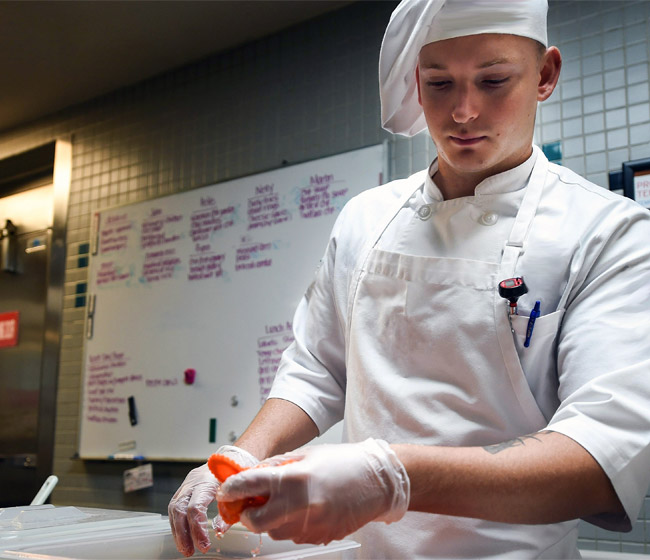 The provision master and his team are down on Deck 4 aft, close to the provision doors, where the loading of all food and beverages takes place.
After having checked what the provision team has prepared for me, with what I have ordered yesterday, I am back in my little section of the galley and start with preparing the different salads. Lettuce has to be cleaned, tomatoes peeled and cut, carrot salad prepared, cucumbers washed and cut, etc.
Luckily one of the cooks in my team is really talented in vegetable and fruit carving, so he gets to select the best pieces first, in order to do his magical work in carving faces, animals and flowers out of any fruit or vegetable.
Besides salads we also prepare cold appetizers in my department – such as shrimp cocktails, melon with parma ham, artichoke hearts – to name only a few. Should you ask for a cheese plate after dinner – that will most likely come from the Garde Manger on-board.
Now I have to prepare the dressing for the Caesar Salad we have on the menu as a standard dish and is a favourite for our guests.
Before I finish for the evening, I have to study the menu for tomorrow and prepare my requisition – so I have all the ingredients ready for my next day in the cold galley.
Bon appetite!
Michael Reiter, Germany