A day in the life of a Florist
Hi everyone! My name is Marcus and I work as a florist in my little shop on board this ship. You don't always find my job on every ship as not all of them are lucky enough to have a florists on board.
When I completed my apprenticeship as a Florist back home in Holland, I never dreamt nor thought that I would ever end up working on board a cruise ship. As mentioned before not all cruise ships have flower shops and some of the duties I have here, are carried out by housekeeping personnel on other ships.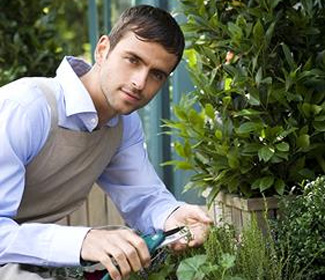 My Assistant and I take care of the flower shop and place all the orders for flowers that need to be kept in our flower fridge along with all the other plants for on board the ship.
Today is embarkation day and as with most of the crew on board, it will be a busy day. Some guests have ordered flowers for their friends and partners for a special occasion. We receive these orders ahead of time, and I have ordered these from the local flower supplier ashore.
In our top class suites, we have a standing order for flowers which has to be in the suites before the guests arrive and of course they need to be replenished and taken care off during the cruise.
For the specialty restaurants on board, we have small vases for 100 tables and they all need to be filled with fresh flowers every 2 days or when needed. We also need to take care of all plants around the ship, check them, change the soil, fertilize them and replace them, when needed.
The security from the gangway has just beeped me, this means most likely my flower delivery is here. I need to check all the plants and flowers when they arrive, make sure they are fresh, look good and are up to our high standards. While the flowers ordered by guests are already arranged as the guests have asked for, we get a lot of loose flowers to sell in the shop and to make the arrangements for the restaurants. We also mustn't forget about the flowers for the 2 weddings that we have on board the have cruise ship once we have set sail.
Whilst I am checking the delivery, my Assistant is busy setting up the shop and making space for the new flowers in our walk-in fridge. The flowers that we have just had in are really good quality and we can start preparing the arrangements which go into the cabins right away. Once all the vases are prepared and have the right cabin number attached, I will call the bell boy, so they can deliver them.
We have some time now to also prepare the bouquets and decoration needed for the wedding chapel for the wedding that are tomorrow.
Before opening the shop this evening, we need to prepare the vases for the specialty restaurant which will take some time as they are normally quite big displays. Once they are ready I will call the Maitre D' to have them picked up.
As you can see, today was such a busy day we haven't had time to take care of the plants on board so this will need to be done tomorrow. If you wanted to I'm sure we can arrange for you to spend another day with Madeleine, my Assistant to see what else we do.
For now, I need to put on my evening Uniform and get the flower shop open.
See you soon.
Marcus Van de Haal, Holland