A day in the life of a Kitchen Steward
Ya man! Welcome in my kingdom, the galleys. My name is Wilson, but everyone calls me "Shorty". And no, it is not because I am short, but because I am very tall. As it is custom in my home country that everyone has a nick name.
My day starts early in the morning, often around 4 am, when the first shift of the Galley Utilities starts. I oversee a total of 35 Utilities in the different galleys onboard. In my team are Galley Utilities, Pot Washers and Dishwasher Utilities and I am responsible for the cleanliness in the Galleys.
In order to be able to check on all the Utilities, I have 2 Assistants. In my area, the position of Utility is filled with applicants who have never worked on a ship before, and they work their way up from Galley Utility to Pot washer, to Dishwasher to Assistant Kitchen Steward.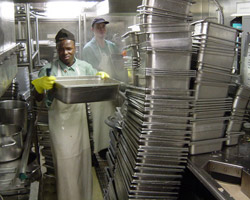 Besides doing the work schedule for my team, I am also responsible for keeping a running inventory of all the cleaning materials and chemicals needed for cleaning and to do the ordering in a timely manner. Furthermore I teach all Utilities the correct cleaning procedures in correspondence with the United States Public Health regulations and requirements.
In the mornings, before breakfast I can do my paperwork and do my rounds in the galleys. I can check that everyone is at their work station and is working. I can also do my spot checks on the night shift to check that they have done a good job cleaning. And yes there are some tricks for checking on that, which for sure I will not tell you here, publicly.
Me and my team needs to make sure that all is cleaned prior to the service times and during the most busy hours of the day. I participated in the USPH course, arranged for by the cruise line in cooperation with the CDC and so know that it is imperative to follow the rules, not only because there are frequent unannounced inspections taking place, but foremost to ensure the health safety of all onboard.
One of my other responsibilities is for the galley utensils and to make sure that when they aren't being used, they are clean and organized for when they are needed. We use color coded cutting boards within the gallery and so really important to use the correct color for the correct type of food, and that they are cleaned really thoroughly to stop contamination. To help this we get the boards sanded on a regular basis so every so often I will check the boards, take some of them out of circulation and ask the carpentry shop to sand them to an even, smooth finish again.
These are just a few of my duties, but I hope you have got a good idea of what my job is.
Don't worry, be happy !
Wilson Scarlet, Jamaica