A day in the life of a Maitre D'Hotel
As a Maitre D'Hotel on a cruise ship I am responsible for the service in all the restaurants on-board. I work closely together with the Executive Chef and have several Assistant Maitre D's (sometimes called Head Waiters) who will help me with this task. Normally there is one Assistant for each Restaurant, including the buffet area.
I am a Department Head and so responsible for reporting to on-board management and the main office, scheduling of all my personnel, disciplinary action within my Department, public relations with guests and taking care of any special needs, such as specific dietary requirements.
My normal day will start at around 6am, to check on early breakfast service and service in the main restaurant. Being a Department Head means participating in most of the ships management meetings, such as the Hotel Manager's meeting which is normally held once per cruise.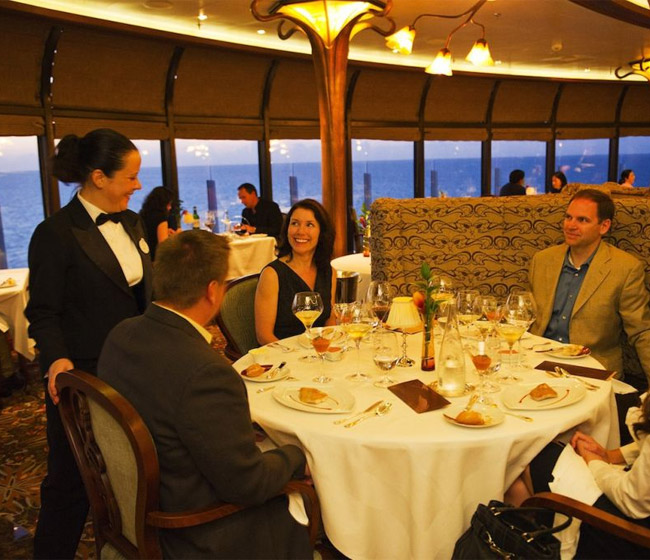 I work in 3 shifts per day, basically every time there is a main meal served - ie breakfast, lunch and dinner. Often for midnight buffets I will oversee that the guests are provided with great service, according to company standards. Working 3 shifts or more per day is strenuous and the break times in between are short.
I need to be present during the main meal hours to do rounds through all the restaurants, keeping an eye on personnel and the Head Waiters, be available to guests and solve any problems which might arise.
Prior to opening any restaurant for service I will check that the set-up of the tables has been done properly, and that everything is ready for receiving the guests.
For lunch time, all restaurants which are scheduled to be opened need to be checked, and the service needs to be supervised and errors corrected.
Where a lot of people work together at a small place, disputes always arise which I need to solve, mostly between crew members or with supervisors.
Dinner is the most crucial meal time of the day, because in most cases all the guests are on-board and want to eat. Some ships have set seating times (early and late seating) and the guests are assigned to the same table and therefore to the same waiter every night. Other ships have an open seating policy, where the guests can go to the Restaurant at any time they like, during the restaurants opening hours.
I needs to ensure that waiting times for a table in the Restaurant are kept to a minimum, or offer alternative places where the guests can go for dinner.
So as Maitre D' I am Head of the Restaurant Department and this career path could bring me to the position of Food and Beverage Manager, and then with sufficient experience, to the position of Hotel Manager.
Brittany Grennon, Canada