A day in the life of a Massage Therapist
I can imagine you are wondering how I got here, working as a Massage Therapist onboard a cruise ship. When I started to train as a massage therapist, I never dreamed of sailing the sever seas!
Whilst my contract is rather long (9 months) and my days at sea filled with giving massages for almost 12 hours straight, I have a privilege most other crew members do not have on-board.
We get, on average, 1.5 days off per week. Of course, this depends on what kind of cruises we have, but on days in port there is not too much happening in the Spa – and so we can go ashore to explore the exotic places we visit around the world.
A typical sea days starts around 7:30 / 7:45 in the morning. Actually it does start earlier, but this is because I need to be in the Spa to get set up for my first client. Since I am in the beauty business, I need to look my best every day, and that includes good hair and make up.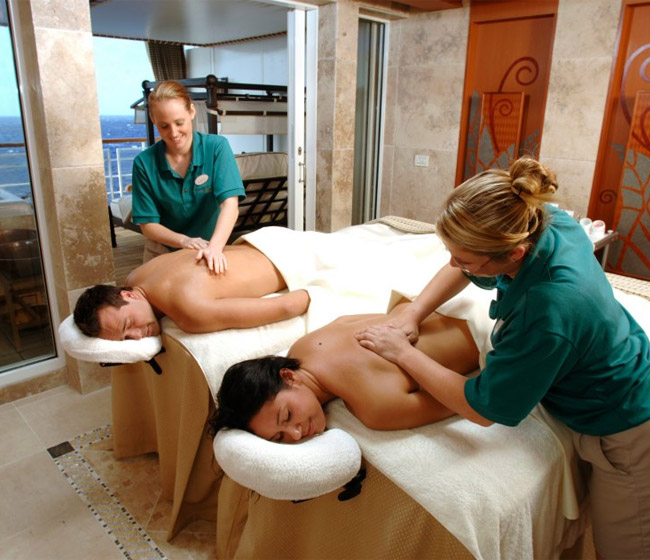 At 8am I already have my first guest booked in for the first full body massage of the day. Looking at todays bookings I will be lucky if I get a half an hour lunch break between massages, facials, aroma stones therapies and detoxifying seaweed wraps. I am trained to do all these spa treatments (some of them I had to learn prior to joining the ship).
Each Massage Therapist has a Treatment Room assigned to her/him, and each one is responsible for the cleanliness and preparation of her/his room. I have prepared mine last night, so all the oils, creams and materials I need are in place, ready to go. I collect the clean towels from the ship's laundry and finally I turn on the relaxing music.
I greet my guest and ask how she is enjoying her cruise, whilst taking her to the treatment room. There I give the her some time to get undressed and comfortable on the massage bed.
That leaves me 5 to 10 minutes in which I check what appointment I have after that, and have a quick chat with any other guests waiting for an appointment with one of my colleagues.
Some guests, like to talk during their massage, others simply want to relax and enjoy the soothing music and the treatment. It is up to me, to find out what the guest prefers.
After the massage, I give my guest some time to relax and to get dressed. I then have about 5 to 10 minutes to talk to the guest about products which are suitable for their skin, and to offer other products we have for sale. Since most of my salary is based on the commission I can earn from these sales, I have to be a good sales person.
Even though I am already confident in recommending the right products to each individual, we have weekly sales training with our Spa Manager to improve our product knowledge and sales skills.
At 8pm, and after 11 massages today, I am ready to close shop. However I still need to clean and organize my treatment room, and get prepared for tomorrow.
Phailin Willapana, Thailand