A day in the life of a Photographer
Here I am, it is six o'clock in the morning and I am going on shore with the passengers to the pyramids in Cairo for the day.
My boss has allowed me to go along today, as I have never seen the pyramids which is fantstaic but obviously I have my job to do as well. Besides taking some spectacular pictures of the pyramids, the sphinx and Cairo, I am hoping to get a lot of guests to allow me to take their pictures and afterwards sell them to the guests.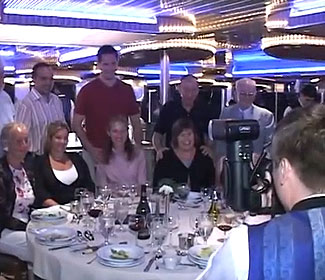 The ship is in Port Said for 2 days and it will take a good 2 to 3 hours by bus to get to Cairo. This is great for me, since I have the chance to talk to all the guests on my bus, and therefore can get a good feel for who will be interested in having their pictures taken.
There will be passengers who will plan to go for a camel ride and these will be good clients who will want a picture of themselves, sitting on a camel, with the pyramid as a back-drop.
It will be a long day, I have my back-pack ready with some snacks and something to drink and of course, my camera and different lenses with me. Luckily nowadays we take digital pictures, so we do not have to carry films with us, and we do not need to worry about wasting any of it. Before you ask, yes I have a couple of spare memory cards with me, just in case.
By now, we have been in the bus for the last 2 hours, I have met all the guests on my bus and feel like I have made some new friends. Some of them have even asked me, if I would take some pictures of them later, as suspected, with the pyramids as a background. The guests feel a lot safer by having me take their pictures rather than handing a complete stranger their cameras – it could be, that they wouldn't get theirs back.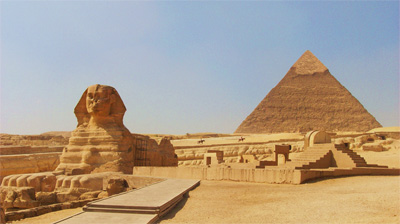 While the guests are in the Egyptian Museum, which is our first stop, I can explore Cairo a little by myself and get some nice shots of the vibrant city. Inside the museums, you are not allowed to take pictures so I will off on foot first and then take a taxi to the sphinx, to meet up with our guests.
Oh, I got some great shots of Cairo and the Sphinx, which I am sure, we can sell onboard, not just on this cruise but also upcoming cruises. Now I'll take some shots of our guests, first without them noticing me and then some that they will love to take home with them.
By now it is 5 pm and I had a long enough day, in the heat and have been overwhelmed by all the sites that we have seen. The buses are waiting and we will start our 2 hour trip back to the ship. During the trip, I am already going through the photos I took and deleting those which I do not like or did not come out very good.
Back onboard, my boss has surprised me in giving me the evening off. He just wants the memory card and some of the other photographers will go through the pictures, print the best ones off and display them in the photo shop tonight. The guests going to dinner tonight can see the great pictures I shot today and on the way out of dinner, some will stop by and buy them.
Now this was an extraordinary day and not all days onboard as a photographer are that exciting, but these days are the cherries on the cake.
Armin Meier, Germany