A day in the life of a Pit Manager
Good evening. I am Peter James Richardson, the Pit Boss - or more commonly known nowadays as the Pit Manager.
I bet you are wondering what on earth a Pit Manager is, right?
Well the title originated back in the days when a Casino was referred to as The Pit, ie the worst place someone could be!
So I am the Manager of 'The Pit' which is also known as "The Floor" (i.e. the area where the gambling tables are - I have hardly anything to do with the slot and card machines). I report to the Assistant Casino Manager.
Here we are, in the Casino, with 12 gambling tables and over 100 different slot machines. Of course we also have the latest models of poker machines and other games.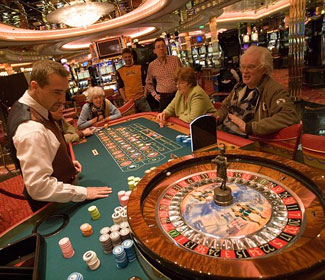 By law, we can only open the casino while the ship is in international waters – so the advantage here is that we are off duty when the ship is in port.
As you can imagine this is a small casino, compared to those on land, so I only have 3 "Floor Men" to supervise, who in turn each have 3 Dealers to watch.
I make sure that the Dealers follow the rules, that they are exchanged when they have a row of losses and that they take their breaks. I also keep an eye on the gamblers, making sure everything is going correctly and smoothly.
It is my job to anticipate and avoid trouble whenever possible.
Of course we sometimes have rude or upset gamblers when they do not win, and at times they need to be calmed down – or if this doesn't work then have them removed from the casino. This really is the last resort, and it is done by the Manager of the Casino.
Now then, you see that group of guests over there? They are so called "high rollers" and they have been pre-approved with a spending limit of 20,000 US Dollars.
They normally want to have a black-jack table for themselves, since they want to play with a higher minimum bet than we normally allow. As they are big spenders we are happy to arrange that for them. Whilst they spend a lot of money, they are also not the easiest people to deal with, so we will give them table 5, which is a bit to the side, and an experienced Dealer who can handle them well.
Do you see what is happening on section 3? The Floor Man there is trying to get our attention, so let's see what is going on.
The Dealer on table 15 seems to be having a streak of bad luck and is losing, so we will give the Dealer a break and substitute with Michael, who is due back on duty now and can take over.
Since the ship is in port tomorrow and offering shore excursions that will last all day, we should be finishing in the Casino earlier today, around 2 am.
I hope you enjoyed your time here in the Casino with me, and I am sure I will see you around.
Peter James Richardson
United Kingdom