A day in the life of a Receptionist
Before landing the job of Receptionist on-board this cruise ship, I worked for several years as Receptionist in a 4 star hotel on land.
My shift often starts at 7 am, and I take over from the Night Auditor. My first task is to read the handover notes from when my shift finished yesterday until now, to update myself on what is going on, what is pending, what actions are required etc. Then I get my cash-float from the safe of the First Purser and take my place at the Reception Desk.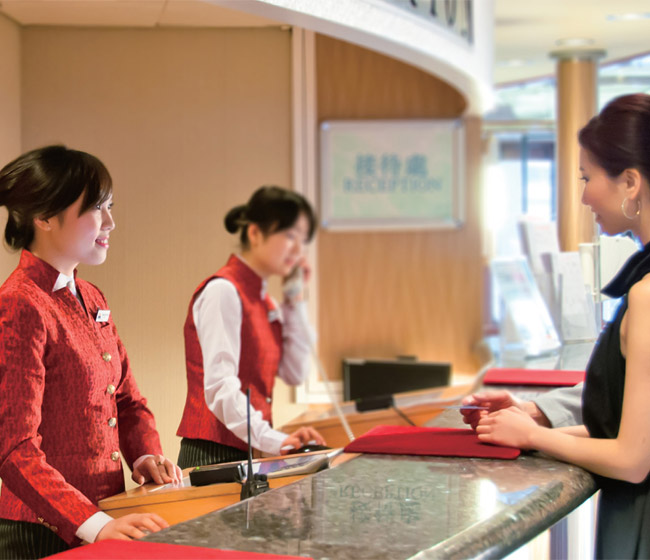 And here comes the first guest, asking at what time they can leave the ship. We are in Port today, but first the ship needs to be cleared by local authorities. Therefore I'll inform the guest to listen for an announcement which will advise when guests can go ashore.
The next guests asks for a map of the town were the ship is today. Luckily the local tour operator was already on-board and left a pile of maps here at Reception. At the same time the guests want some local currency, so I charge the amount requested to the guests account in the currency of the ship (US Dollars) and pay out the equivalent amount in local currency to the guest.
Besides answering a great variety of questions to guests, the Receptionist is also the person for guests to lodge their complaints. For the technical matters, such as replacing light bulbs, we log the comment in the technical log book and inform the Electrical Department. Before we send an employee from the Technical Department for other reported cabin malfunctions, such as toilet not flushing, no hot water or safes which cannot be opened, we first get Housekeeping to check to ensure they are not simply 'operator error' since guests often do not press the flush button correctly, have not changed the tap from cold to hot, or have simply forgotten the combination they have entered into the safe.
As Receptionist, I am often required to prepare paperwork for clearance or for the next cruise. Some Countries require extensive landing forms from guests, which are prepared, completed and logged by the Reception staff during quiet periods when there are no guest queries, either in person or by phone.
Preparation for the next cruise includes printing the key cards for the new guests in advance.
Often the First Purser needs assistance with guest lists and other paperwork.
This was a rather typical day in my busy life as a Receptionist on-board a cruise ship.
Samantha Paul, South Africa