A day in the life of a Retail Sales Person
Howdie, I am your "Retail Sales Person" – which be honest – the title sounds a little boring. Everyone on board actually refers to us as the "Shoppies" – since we work in the Gift shops. There are a number of shops all offering a variety of things from the everyday gift to the more exclusive tax free goods.
On this ship, we have a clothing store that sells items with the cruise lines logo on. We also have a main shop which is where I work, that sells lots of the normal gifts such as coffee cups, sweets, alcohol, towels and beach bags. We also sell some more unusual gifts that are specific to the countries that we visit and for these gift we do some themed nights to get everyone in the mood.
There is a cosmetic/fragrance shop on board where beauty, watch and jewellery specialists all work. Some of the items in the shop are quite unusual such as Black Pearl necklaces from Tahiti that the guests can be offered advice on.
I really like my job and enjoy having the interaction with the guests. One of the other things I love about my job is that when the ship is in Port, the shop is closed which means I get to take some time off and do some sight seeing myself.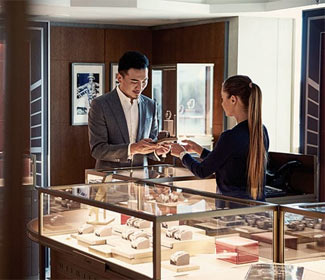 Today however, we all need to work, since we are receiving new merchandise. Yesterday we had to work until late into the night, re-arranging the shop to make space for the new goods arriving today. We are currently sailing the Baltic sea, and some typical goods are local to Russia, for example Lacquer boxes and "Matryoshkas". You know the wooden dolls where one fits into the other.
While the shop manager and her assistant are outside, receiving and checking the goods, some of my colleagues will be moving the gifts to our store, and we will unpack the goods into their smaller boxes and divide them into what needs to be put into the storage area and what needs to go onto the shop floor. I am in charge of making sure that the inventory list is kept up to date.
Since we have prepared a list of items we need upstairs in the shop, we can send these items straight up with one of my colleagues. We will do a special sale tonight when we leave port and of course on some other days during the cruise to promote all the new items and sell off some of the older items.
Yes, I know, these boxes are heavy and it is not easy to move around – now you know why I go to the gym every day, right ?
Now we need to get the Russian dolls, lacquer boxes and the nice shawls we have into the shop and set up our special sales table. We have announced in the Daily Program on board, that tonight we have Russian night – and of course we have a promotion on Vodka. With this we hopefully get more people come by and we can make some good sales.
Our Manager has bought outfits for all of us to wear to our theme night tonight which I am really looking forward to. It should be a really good night and I hope that I sell lots of items, as the more I sell, the more commission I will make which is where my salary comes from.
Are you going to come along and see if there is anything that you might want to buy?
Stephanie Walker, USA