A day in the life of a Utility Provisions
Hola a todos ! My name is Angel and and I am from Peru.
Welcome to my work place here in the Provisions Area. I am sure you have noticed by now, that there are quite a lot of positions with the title of Utility around.
Basically to give you an idea of the ranking structure and how that effects the job title,
we are crew members and not on top of the chain of command. Besides the rank you will also find the name of the department or area where we work.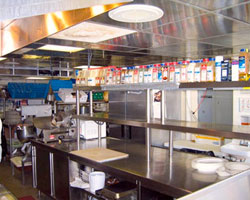 I am one of 8 Utilities in the Provisions Area. We have also a couple of Assistant Provision Masters and one Provisions Master.
You probably already know that we keep all the food and beverages for all the different departments. Basically we are the warehouse of the ship and nobody will get anything out of here without the proper paperwork.
While the Assistants input all the info into the computers, we have to physically move the items. We receive the orders of fruits, vegetables, meat, beverages, condiments, herbs and simple things like salt and pepper. We then make up the carts and boxes, mark off what we have taken out of the store and make a copy of the requisition note. One copy goes with the goods, the other to our office, for inventory control.
Besides preparing and handing out goods, we need to keep the fridges and areas clean and organized. Prior to every loading in our home port, we need to make sure we move the items that are still in the fridges and storerooms to the front. This way, they will be used up next, and the new items go in the back.
We also have to check expiry dates on food items, check the fruit and vegetable boxes every day and sort out any goods that are rotten, in order to avoid the entire box to be spoiled. And of course we have lot of cleaning to do, and keep everything in good order.
I hope you got a good idea of what job I have here and you enjoyed your time with me.
Hasta luego,
Angel Broch, Peru