A day in the life of a Wardrobe Supervisor
Hello there – I am Eileen from Ireland and this is my second contract on board a cruise ship as a Wardrobe Supervisor in the Entertainment Department.
Welcome to my exciting backstage world working in the ships theater, where I am responsible for maintaining the costumes for all the cast in the various shows.
I honestly never thought that there would be an opportunity for me to work on board a cruise ship someday when I started my apprenticeship as a seamstress.
While my goal was always to get into fashion design, I had to begin my career by training as a seamstress. Once I was qualified I secured a job at the local theater in my home town, and discovered I loved working with all the costumes, some of which were truly vintage and required a great deal of care and repairs. In addition I was often required to re-produce replacement costumes, which was a challenge that I enjoyed.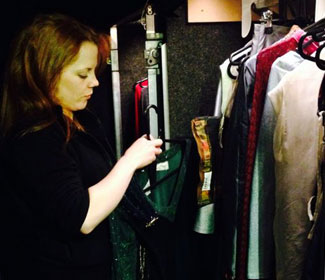 There are no vintage costumes on board this ship, however with the continual wear and tear on the cast members wardrobe I have plenty to do!
Since we have a whole new cast joining the ship this week, I need to arrange fittings for them all and make the necessary alterations to the dresses and costumes.
With a cast of 12 people I need to be really well organized and and have all the costumes correctly labeled with the name of the each cast member.
Many alterations need to be done by hand, due to a lot of spangles and fake pearls on the costumes. I love show business!
After the initial costume fittings we hold a full dress rehearsal. This means that the cast members run through all their shows in full costume, so that we can fix any 'wardrobe malfunctions' and I can practice helping with the costume changes required quickly in between the different acts. I usually hire another crew member who is available to help me and the cast members with their costume changes, as this is need to be done quickly and without fuss, so another pair of hands is very useful.
My job isn't over when the curtain comes down. After each show I am then responsible for cleaning all the costumes, repairing rips and tears, replacing lost pearls and spangles, checking that all buttons are still there and that zippers are working correctly
I am basically my own boss, and my working hours are very flexible which is great but requires a lot of self-discipline as it is my sole responsibility to make sure my job is done, and done well..
Therefore, since I would rather take the opportunity to visit new, foreign places, than party all night long, I go ashore whenever I have the opportunity and work at night, after the shows, when the ship is at sea.
So now you have a good idea of what my job is all about, I suggest you hurry up and get into the theater and take your seat as the show is about to start!
Eileen Walsh, Ireland