A day in the life of an Assistant Florist
Hello there. It's really nice that you have come to spend the day with me. I have seen you around in the florist shop and I am sure you must be overwhelmed by the amount and variety of flowers that you saw. My name is Madeleine and you may be surprised to know that I am from the Philippines.
I am really happy here. I have my dream job on a cruise ship and a good working relationship with Marcel who I work alongside. We often work in terms, at least one of us is always onboard, so we can always be reached when there is a need for flowers.
Our shop is open while the ship is at sea. During the other times we have to take care of all the plants onboard and believe me, we have a lot of them in every possible location. Also, in all of the premium suites there are plants, but in order not to disturb the guests, we take care of them on embarkation day.
So, let's go up to Deck 14 and work our way down. I have found that going from the top deck down, and from the front to the back of the ships is the most efficient way. I need to take my little cart as we need to take with us a watering can, some soft cloths, a spray bottle with my secret mixturein it, fertilizer, soil, a pair of pruning shears and a garbage bag. When I started, I had to have a check-list, as having to go back to the shop because I forgot something, is not only very time consuming but also very annoying.
Here we are, at our first stop, a beautiful crassula, which needs a little loving tender care. We need to remove the old leaves and give it a little trim and some water. Next we need to get my spray bottle containing my special mixture and use it to wipe over the leaves as with the dry enviroment that we have because of air conditioning, they get very dusty. Wiping them down with a dry soft cloth gives the leaves a nice shine and makes them look fresh.
Right we have get moving now as we have to do that with another 20 plants today – and that will leave some for tomorrow as well.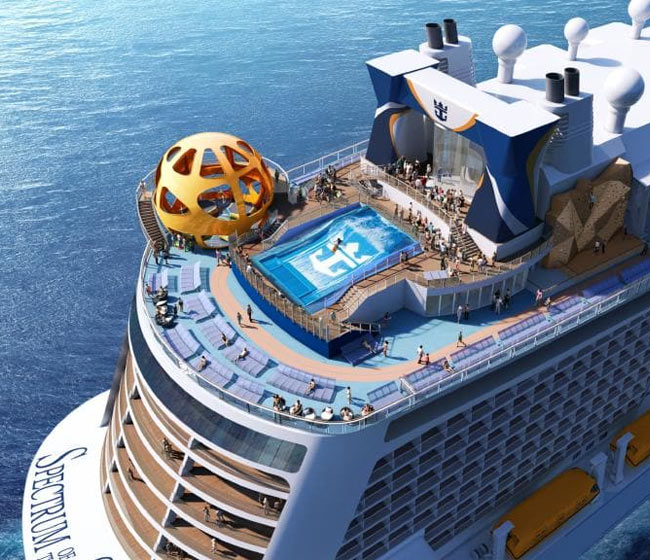 Now that we have done my round, it is time for lunch and an afternoon break. For late this afternoon there is a flower arrangement to be prepared for one of the guests. They are celebrating their 49th wedding anniversary and the husband wants to surprise his wife during dinner tonight with her favourite flowers, white tulips. The waiter in the dining room will present them during desert , oh how romantic!
It was nice spending the time with you and I hope you enjoyed what you saw and learned today.
Have a good evening.
Madeleine Camus, Philippines