A day in the life of an Environmental Officer
Hi there, my name is Lena Schneider and I am from Germany. While many officer positions onboard require that one has worked for some time before onboard cruise ships, I was lucky to get this job because of my extensive knowledge in environmental themes. I have worked for major companies, dealing with chemicals.
There are a lot of regulations and rules for the proper storage, documentation, usage and disposal of chemicals on-board cruise ships. But first let's start at the absolute basics – the garbage room.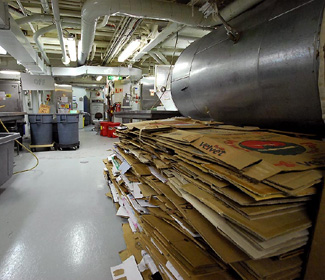 As you can imagine a ship produced a huge amount of different types of garbage. As you know, it is forbidden to throw garbage overboard. We have a responsibility to keep our oceans as clean as possible.
I am responsible for a team of 10 who sort garbage and dispose of it in the correct way. We have a burner for all the paper and cardboard, a glass crusher for all glassware and a metal press for all the metal cans. We collect all plastics and discharge them without processing.
I work closely together with all departments to have all garbage pre-sorted and we have garbage bins for separating the waste right at the origin. The crew members who then collect the garbage, like at the pool deck, in the passenger cabins, the offices, galleys and bars have to sort the waste here. The environmental team is here to help and to ensure that all goes into the correct bins. Of course, at times some crew members do not want to spend the time and go through the garbage, but we have a good control system in place.
Besides the usual garbage, we also have containers for the oil from the galleys and the engine room, a separate drum for oily rags from the engine room, and a container for the liquid from the X-Ray machine in the onboard hospital, as well as a location where we collect empty, but with residue filled paint buckets.
We need to discharge our garbage about once a week and we do this with the help of the port agent, who is organizing this with the local authorities and disposal companies. We need to tell them in advance how much and what kind of garbage we have to discharge and we get the necessary containers set up on the pier, close to our discharge door.
As you can imagine this is not a cheap operation and therefore, we burn all the paper and cardboard, while at sea. To save on volume, we crush the glass in our facility and we press all metal cans to cubes.
Food waste is being processed directly in the Galleys at the dishwasher areas, ground and mixed with water, until it passes through a pipe with a diameter of 25 millimeters. Only then and at a minimum distance of 3 nautical miles from land, can processed food waste be discharged into the ocean.
Oh, I just realize, that we are almost done for today. The time passed so quickly with you and it was a lot of fun to show you around.
I hope you also had a good time and I look forward to meeting you again,
Be safe and well,
Lena Schneider, Germany