A day in the life of an Executive Chef
"Never trust a skinny Chef" – this is my motto. If you could see me, you would know you could trust me!
I am the Executive Chef on board a cruise ship, and I am very proud to have reached this position.
We feed around 4000 guests and 2000 crew members. For guests we have a variety of 10 different Restaurants. For the Officers, Staff and Crew we have several messes on board.
To reach this position of Executive Chef I have had to work many years shore-side in different galleys to gain enough experience and learn all the tricks. Then I started work on-board cruise ships as a Head Chef before being promoted to Sous-Chef and then finally to Executive Chef.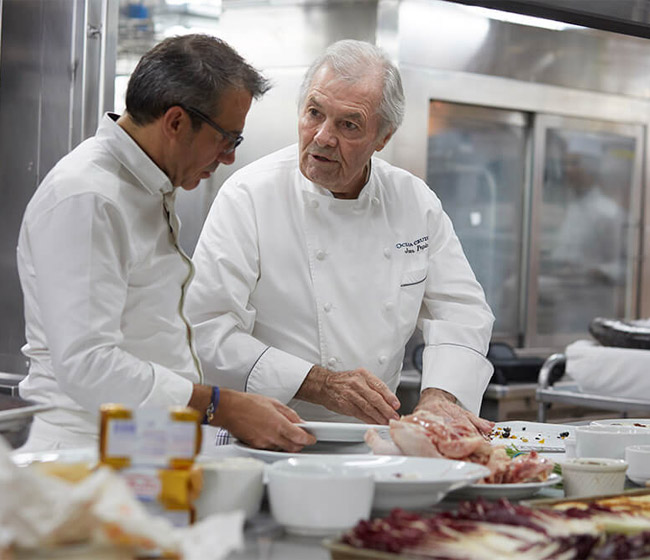 I oversee a department of 300 cooks and utilities in different galleys. Of course I have several Sous-chefs who oversee each specific galley, and they produce the work schedules for their team. But the overall responsibility lies with me.
Therefore I meet with all my Sous-Chefs every morning to discuss any matters relating to their galleys. These range from Food and Menu issues to topics like crew members or disciplinary action. I am also responsible for ensuring that the food costs are kept in line with the budget.
After the meeting with the Sous-Chefs, I normally meet with the Food and Beverage Manager or his Assistant to discuss matters he/she needs to be aware of.
Prior to lunch and dinner service I pass by all galleys, talk with the Head Cooks, observe work flow, and of course taste a few dishes as part of quality control – and is certainly a reason why I am not skinny!
Dinner time is our busiest meal time. All guests are on-board. The majority of them eat in the main dining room, so the ordering system needs to function perfectly. While I call out the ordered dishes to the cooks in the hot galley, I need to watch the speed of preparing the plates and the presentation of the food.
The final touch of the garnish is placed by me on the plate, and only then is the busboy or waiter allowed to pick up the plate, and serve it to our guests.
Besides the daily food service, I am responsible for the ordering of the food, best utilization of the food on-board, reducing food waste, inventory spot checks and taking care of any guests special dietary needs. I am also responsible for managing the crew in my team, training in USPH and checking that all goes smoothly.
I have to leave you for now, as I need to go back to the galley and work on that new recipe, but you will hear from me again soon.
Mario Conti, Italy