A day in the life of an IT Specialist
Good day to you. I am Ashok Kumar from Mumbai, India and I am one of the ships IT Specialists. As you can imagine, the bigger the ships, the more positions exist in the IT department.
We have a Systems Manager who overseas all areas concerned with IT, and we have those who specialise in the computer system in general and those like me, who specialises in the IT infrastructure. Like on land, more and more things are linked together. I need to make sure that the phones and interactive televisions in the guest rooms are all working well and correctly.
Of course, when there is a need, I have to do other IT related work but all non-working equipment in a guest room always takes priority.
My day normally starts at 8:00 am and the first thing I do, is to see if we got any complaints from guests or from any other department on board the ship regarding computers or phones not working properly.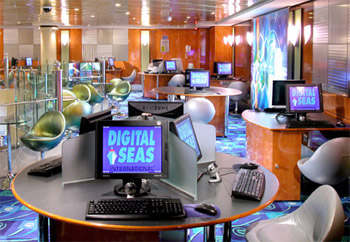 Luckily today, everything seems to be working well. Tomorrow is embarkation day so the guests currently on board will leave and another 3000 people will join us. I need to make sure that all our equipment that is needed for check-in tomorrow is ready and in good working order. As you may already know, check-in of guests is done in the passenger terminal. We will need to bring our laptops and key-cards outside and they will need to be hooked up to the system on board the ship. We have 15 check-in stations, which can all work simultaneously. There won't be anytime to test anything tomorrow, so today I will need to switch on all stations, check that they all load without any problems, check the power supplies and all the WI-fi connections.
I have created a kind of a mock set up, where I can see on my computer, if all information from the work stations is transmitted to the on board system, including the security system, correctly.
All is working well, so now I can pack up and put everything in my prepared boxes. Tomorrow, time will be of the essence so all needs to go quickly and organized.
Did you hear that? My Beeper just went off, so there is an issue somewhere. It's the Chief Engineers office and while the Chief Engineer knows everything about his engine and all that goes with it in, his computer skills are not the best. Let's call him and see what the problem is.
If you stay with me, you can also see the Chief Engineers office. I think his computer has frozen, which most likely is due to the impatience of pressing too many keys at the same time. It's an easy fix so let's go before we go and get some lunch.
Ashok Kumar, India