Career Progression within the Cruise Industry
With an expected 30 million people choosing to take a cruise this year, cruise line companies are continually striving to build bigger and better ships, meaning that there is an ever-increasing number of opportunities for those who would like to work and progress their career at sea.
Entry Level Cruise Ship Jobs
Most people that begin their careers at sea have started in an entry level job. Some may be happy to stay in this position. Others have ambitions to move forwards with their career as quickly as possible. Entry level jobs include cleaner, pot washer, bar utility, deckhand, ordinary seaman, laundryman, bell staff and cabin steward.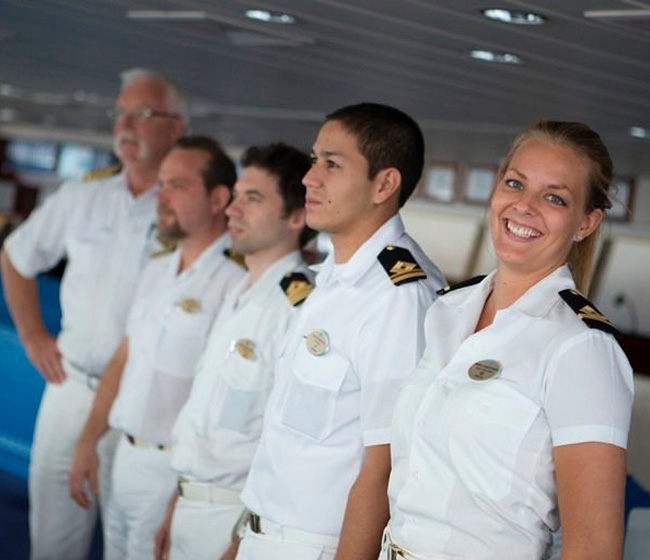 Cruise Career Path
The career path of a crew member isn't always direct. A crew member may start in an entry level position in one department but may demonstrate the right skills to be transferred to another department. It is possible to quickly progress through the ranks – with the right training, skills, experience, personality, drive, and opportunity.
For example, an employee may start his/her cruise career as a Buffet Steward. After a couple of contracts s/he may change departments and work as a Guest Services Associate. A few contracts more and then this same crew member may be promoted to Crew Agent, a one-striped officer position. After a few years and some additional training, this person could then be promoted to Crew Manager and then eventually they could qualify as a Human Resources Manager.
Such a career path may not happen for everyone, or even be desired by everyone. The title of supervisor, manager or senior officer may mean a bigger salary and more responsibility, but it also means less free time, less time ashore, and less socialising.
Importance of Shipboard Experience
Once you're onboard you will understand the importance of previous cruise ship experience. Most cruise ship job descriptions state that applicants should have previous shipboard experience, especially for supervisory and management positions. The main reason for this is that working on a cruise ship is quite different than many other industries.
Once you have shipboard experience under your belt, it means that you understand how cruise ships operate - the seven day working week, how the different departments work together and the hierarchy involved - and you will have gained an in-depth knowledge of emergency training, as well as other additional training certificates.
Career Progression
As cruise line companies are investing both time and money into training their employees, once on board you will be encouraged to seek promotion if you do well. Cruise lines typically promote from within, so entry-level jobs focus on front-line functions and customer service roles. Employers look for people with administrative and general management backgrounds, as well as people with customer service and sales skills.
Some cruise lines offer graduate schemes or cadetships on board in HR, finance, deck and engine and hotel departments.
How To Get a Promotion
To be offered a promotion to the next level or to a different department, a candidate needs the best combination of training, skills and personality. Although cruise lines tend to promote from within, sometimes they will choose an applicant from outside the cruise industry. Either way, to be considered for a promotion, you need to understand which skills and training is required depending on the department and job role.
For example, being able to speak another language is one of those skills that can make the difference between one candidate getting the job over a rival who only speaks one language.
Emergency training is also important when it comes to selecting who should be promoted. Courses such as Crowd Management or Designated Security Duties are usually required before a person can be promoted to a managerial position.
It goes without saying that everyone must wait their turn and prove themselves before getting the opportunity for a promotion. The best thing that a crew member can do is to work hard, show an excellent work ethic, get along with everyone on board, go above and beyond their responsibilities and continue with getting more training and skills.
From Second Cook to Captain…
An example of career progression within the cruise industry is that of Captain Thomas Larsen who has recently been appointed as Captain of Crystal Endeavor (Crystal Expedition Cruises), which will embark on her maiden voyage from Tokyo in August 2020.
Captain Larsen has decades of diverse nautical experience that began in his native Sweden and spans the cargo industry, Swedish Royal Navy, private superyachts, and numerous cruise ships.
Captain Larsen's seagoing career began in 1984, when, at the age of 16, he started as a second cook before switching to the deck department. He climbed the ranks and entered the Swedish Royal Navy as seaman and bosun, then graduated from Kalmar Maritime Academy with a master mariner degree.
He spent nearly two decades with an Asia-Pacific cruise operator as staff captain and captain, helmed a private superyacht in the Mediterranean Sea and Indian Ocean, and was recruited by Crystal in 2016 as Captain of Crystal Esprit and then Crystal Symphony.
From One Contract to Hotel Manager…
Another good example of career progression is Scarlet Perez who, after an apprenticeship in a hotel and some years of work experience, decided that she wanted to travel the world and broaden her experience. She was offered a "one contract deal" onboard a cruise ship as bar waitress – a demanding, busy and enjoyable role.
After this first contract, she decided that cruise life was for her and as she had proven to the cruise line that she was competent in the bar keeper role, she then applied for a position as Receptionist and over the years that followed, she moved through the positions of Purser, Maitre D', Chief Purser and Hotel Manager.
Scarlet says: "I am no exception in having progressed my career onboard a cruise ship. For people with the right attitude and dedication, promotions are common. And there is always the possibility to change to a different department if you wish, provided you possess the necessary qualifications and experience."
Start Your Cruise Career Now
As you can see, once you have your foot in the door anything is possible!
There are so many exciting opportunities available on board a cruise ship, so why not start your cruise career now?
See all the latest cruise ship vacancies on All Cruise Jobs.