Carnival UK's Chef Assessment Day in Osaka, Japan
An exciting opportunity has arisen for Chefs to travel the world, whilst getting paid and having the opportunity to work with Carnival's celebrity chefs.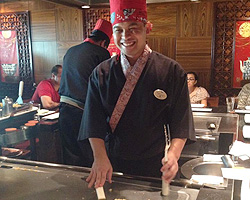 Carnival UK would like to meet Japanese chefs interested in working on-board their ships within the Cunard and P&O Cruises fleets. They are recruiting for the following positions:
Demi Chef De Partie Baker
Demi Chef De Partie Butcher
Demi Chef De Partie Pastry
Demi Chef De Partie Japanese
Chef De Partie
Chef De Partie Baker
Chef De Partie Butcher
Chef De Partie Pastry
Chef De Partie Japanese
Senior Chef De Partie
Sous Chef
Head Baker, Head Butcher, Chef Patisserie
Chef De Cuisine
The assessment day will take place in Osaka, Japan onboard Queen Victoria in March 2018.
For more information and to apply please go to All Cruise Jobs.