How Coronavirus is Affecting the Cruise Industry (March 2020)
As the COVID-19 virus continues to take hold, we look at what impact this is having on the cruise industry.
The cruise industry has been hit hard by the coronavirus scare in Asia with more than 80 voyages cancelled by several cruise lines, and seven ports closed in the region.
While cruise lines do their best to modify additional voyages, change their itineraries and redeploy their ships to Australia or start their European season earlier than scheduled, some cruise operators have placed their ships on hold.
Five cruise ships including Diamond Princess, World Dream, Anthem of Seas, Westerdam, and Costa Smeralda have already been under quarantine after news about possible infections emerged.
Captain and Crew of Diamond Princess Praised
Diamond Princess, operated by Princess Cruises (a subsidiary of Carnival Corporation), was quarantined off the coast of Yokohama, Japan, for two weeks after a passenger from Hong Kong tested positive for the coronavirus on 25 January after disembarking in Hong Kong. The ship had 2,666 guests and 1,045 crew on-board with 706 confirmed coronavirus cases reported on the ship.
Thankfully everyone is now off the ship and it has subsequently undergone a deep clean. The Captain, Gennaro Arma, was the last person to leave the ship and he is being described as the 'Diamond Princess Hero'. He and his senior officers have been thanked for their leadership, and an exceptional service from the onboard team in extraordinary circumstances.
Princess Cruises says: "He is a hero in our eyes. We thank him and our exceptional onboard team."
During the quarantine the Captain managed to prevent panic breaking lose, maintained as high a spirit as possible of the crew and the guests under such circumstances, as well as maintaining the quarantine conditions without many medically trained staff, and all while keeping humble.
Guests have said: "One reason why a panic has not occurred among the passengers is the captain's leadership." and "I want this kind of a man to be our country's leader."
The crew have also been shown immense gratitude from passengers who were onboard the ship.
The crew members were a lifeline for passengers, delivering food, water, towels, medication and anything else they requested. "They've basically been told that they need to take care of all these potentially sick people," said a passenger from Portland, Oregon. "They're kind of the unsung heroes here."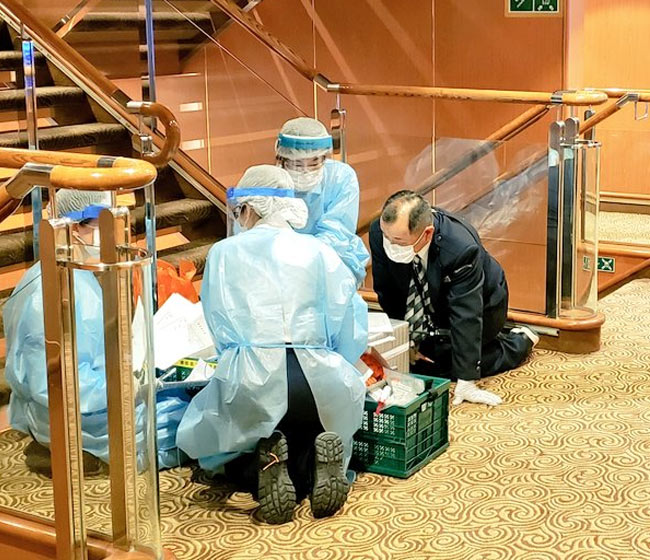 Other implications for the cruise and travel industry:
A number of deployment changes have been announced in Asia due to the coronavirus outbreak and associated port and travel restrictions.
Many companies, such as

Scenic Group

, are announcing changes to their cancellation policies giving guests options to change dates.

Virgin Voyages

cancelled its New York introduction of the

Scarlet Lady

.
The world's largest travel show,

ITB Berlin 2020

, has been cancelled.

Costa Cruises

has cancelled the rest of its March China sailings.
Many crew are on standby as cruise lines cancel sign-on dates until further notice.
The

Cruise Job Fair

in Krakow (scheduled for 20th March has been postponed).
The world and the cruise line industry will wait to see how the situation unfolds in the coming weeks.