Costa Cruises
The Costa Group is the largest Italian travel group and Europe's number one cruise operator.
It is an integral part of Carnival Corporation, the world's biggest cruise operator, and comprises the brands Costa Cruises S.p.A., AIDA Cruises and Costa Asia. With 28 ships on service, they are headquartered in Genoa (Italy) and sail to over 250 destinations in the Mediterranean, Northern Europe, The Baltic Sea, The Caribbean, Central and South America, the United Arab Emirates, the Far East, the Indian Ocean, the Red Sea, Round-the-World cruises.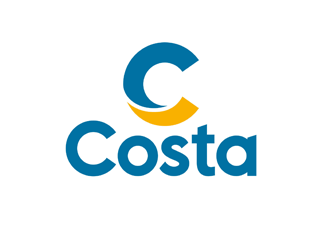 Since 1948, Costa Cruises has represented hospitality and Italian style. As the only Cruise Company sailing the Italian flag, they are proud of their Italian values.
Costa Cruises has 15 ships in its fleet, all with their distinguishable yellow and blue logo on the ships' funnels, as well as three more on order. Its fleet ranges from the small and intimate, to larger and more spectacular ships.
The ships offer state of the art technology, as well as unique décor in an elegant Italian baroque and neo-classical style. Renowned architects and designers that include the likes of Guido Canali, Pierluigi Cerri, and Joseph Farcus have played an instrumental role in the design of its ships.
Costa Cruises specialise in providing wellness cruises to its passengers. Holiday makers can choose from a selection of therapies including Ayurvedic rituals, therapeutic massage, and body and face massage, in order to enjoy the pleasures of the Samsara world. For the active minded, the ships are well equipped with excellent gym facilities.
Family groups will enjoy the special children's programs onboard the ships. The kids will have fun meeting 'Squok' - Costa's friendly half-shark half-dolphin mascot.
Jobs at Costa Cruises
Costa Cruises employ more than 20,000 people from 70 different countries - their people are characterised by a rich diversity of professionalism, multi-culturalism and skills. They aim to bring joy to their guests by providing an international environment that is rich in cultural diversity and that is positive, friendly and welcoming.
Costa are team-orientated and they empower their employees with outstanding training and development to support their growth, both personally and professionally.
Job seekers will need to be in tune with Costa's 'Dedication with a smile at your service' motto and candidates who speak a foreign language would be highly regarded. Possible job opportunities are available across many departments including Deck and Engine, Hotel, Food and Beverage, Office and Entertainment.
Contact Details:
Costa Crociere S.p.A
Piazza Piccapietra 48
16121 Genova, Italy
Related Links: