Cunard Line
The Cunard Line is a famous cruise line operator which was first established in 1840 and has been defining sophisticated ocean travel ever since with its iconic ships.
Based in Southampton, Cunard is the operator of luxury ocean liners Queen Mary 2, Queen Victoria and Queen Elizabeth, with a new ship due to join the fleet in 2022. The company has a well-earned reputation in the travel industry, acknowledged by the multiple awards that it has won over the years.
Cunard joined the Carnival Group in 1999 with Carnival UK overseeing the operations of Cunard Line.
Traveling on a Cunard Line cruise ship is done in the classic British tradition of sophistication and style. Cunard cruises provide quality and value for the cruise connoisseur. The company offers a style of luxurious cruising that provides a high level of amenities on board across the areas of accommodation, food, service and entertainment.
Elegance and style is evident in the tasteful décor on board its ships. Passengers will also find exquisite artwork dotted throughout its ships.
Cunard Line ships are well known for their regular Trans-Atlantic crossings and special round the world cruises. Other destinations include the Mediterranean, Caribbean, Northern Europe, United Kingdom, Scandinavia, Canaries, USA and Canada.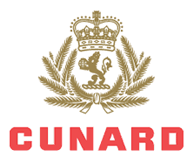 Jobs at Cunard Line
Cunard is a global employer and they want to attract the very best global talent to join their team.
They provide training, development and coaching for all individuals on board their ships as part of their renowned White Star Service Programme.
They have identified their core brand values which perfectly describe the Cunard brand as follows:
Refined – serve with style and attention to detail
Thoughtful – think and deliver with care and imagination
Charismatic – speak and act with charm and confidence
Proud – represent Cunard with passion and pride
Cunard employ candidates across a range of departments including Hotel, Food and Beverage, Housekeeping, Entertainment, Hotel Operations, Retail, Deck, Technical, HR, Medical and Environmental.
Contact Details
HR Recruitment Team
Carnival House - 4 Pacific West
100 Harbour Parade
Southampton
SO15 1ST
United Kingdom
Hotel & Entertainments: hotel.recruitment@carnivalukgroup.com
Medical: medical.recruitment@carnivalukgroup.com
Cadets: cadet.recruitment@carnivalukgroup.com
Related Links