Accommodation Jobs
Visit All Cruise Jobs for latest Accommodation job vacancies on-board cruise ships. A selection of most recent Accommodation jobs is below: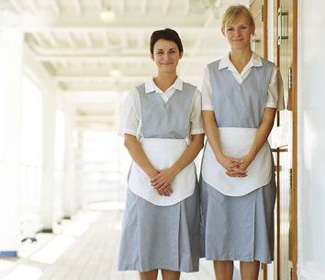 Responsibilities: Responsible for the entire Housekeeping team on board incl. laundryoperationMaintain control of external laundered linen and uniformsEnsuring impeccablcleanliness inside of the sh...

May 26, 2019 | VIS Recruit

Dear Candidate.We have open positions for Housekeeping Supervisors with a 5* American Cruise Line. Job SummaryManagement of the entire Housekeeping operation incding training, inter-departm...

May 26, 2019 | Cruise Carreras

Professional experience Experience in a comparable position1 year of professional experience on ships or 2 year of professional experience on land in hotelHigh sense forleanliness and hygiene Resp...

May 26, 2019 | VIS Recruit

Uniworld owns and operates a fleet of thirteen intimate, boutique river cruise ships on the European waterways which cater exclusively to English-speaking clients. Ware looking for The Best to ...

May 25, 2019 | Uniworld

JOB DESCRIPTION - PORTUGAL STATEROOM STEWARD m/f (PORTUGUESE CONTRACT) Purpose of Position To provide guests at all times with friendly, personalized housekeeping servi. This includes, but is not ...

May 24, 2019 | Viking Cruises

Vessel type: Ocean-going cruise ship Job Description STOREKEEPER Purpose of Position You ensure clean of F&B stores area and are in charge of checking quaities and quality of all Foo...

May 24, 2019 | Viking Cruises

You have a real flair for tidiness and cleanliness. Your main role is to ensure cleanliness and tidiness throughout the ship while respecting the privacy of the guests. a cabin steward, you are re...

May 24, 2019 | G&P Cruise Hotel Management GmbH
Find more Accommodation jobs on All Cruise Jobs.