Accommodation Jobs
Visit All Cruise Jobs for latest Accommodation job vacancies on-board cruise ships. A selection of most recent Accommodation jobs is below: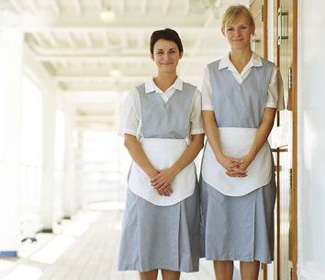 Reports Directly to Housekeeping Manager (Onboard) General Responsibilities To clean assigned Guest Staterooms, sections and pantries according to schedule aninstruction from the Houseke...

September 18, 2020 | V.Ships Leisure

We are currently recruiting for an Experienced Chief Housekeeper for Pianoland Cruise Ship, which will sail on an Asian Itinerary. The vessel will sail with Chinese Natial guests onboard, with an i...

September 17, 2020 | V.Ships Leisure

We are seeking an experienced Executive Housekeeper to join a luxury discovery yacht! Start date: end of 2020 The successful applicant must have previous experience worng onboard luxury cruise ves...

September 7, 2020 | Viking Crew

As the sole Tailor / Upholsterer onboard, you will be responsible for necessary mending to fabrics, linens, and materials in general onboard. You will be expected to mane stock, make any necessary ...

September 7, 2020 | V.Ships Leisure

I am seeking for a European candidate who has experience with Housekeeping, as Cabin Cleaner or similar role. Important is that you are aware of all related duties, so th you could support straight ...

September 3, 2020 | Lighthaus-Marine

Are you passionate about hospitality service and paying attention to detail?Do you have experience on cruise ship?Mystic Cruises is the place for you!Mystic Cruises is a rtuguese cruise company dedi...

September 2, 2020 | V.Ships Leisure

Stateroom Attendant f/m EU passport: Yes Type of Cruise: River Cruise Salary (Net): €1500- €1600 Key areas of responsibility: Will adhere to the specified itten or verbal instructions...

September 2, 2020 | Hola Crew
Find more Accommodation jobs on All Cruise Jobs.