Employees on Cruise Ships
A cruise ship is a truly unique global workplace – normally with as many as 70 nationalities represented on board. Generally, cruise lines prefer to hire people with previous cruise ship experience and a good command of the English language. Having said that, those with relevant professional background experience will also be considered and employees on cruise ships come from all the world.
People who apply for a position on a cruise liner want to travel. However, that is not enough. Certain onshore experience from a related job and working with the public is always required. The most common previous experience is from the hospitality industry and restaurants and hotels are perfect for learning customer service and guest experience skills. Hotel and culinary schools/academies provide the best background and graduates from these establishments are very often hired by the cruise lines.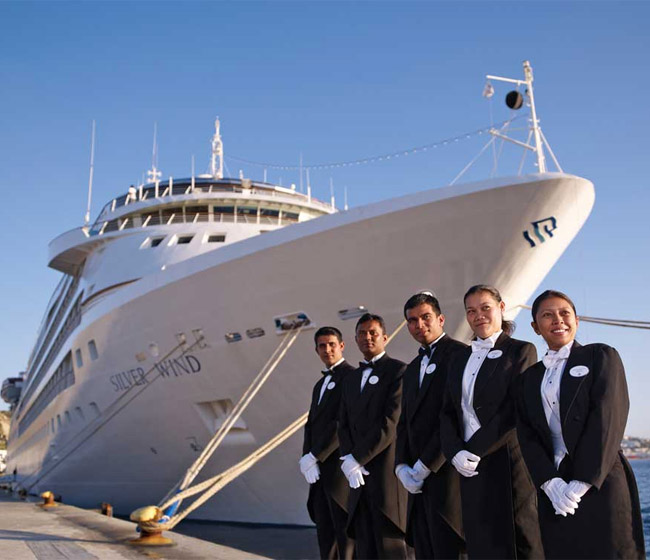 Cruise lines also hire people with experience in tourism, entertainment, teaching, childcare, health and beauty, sales, customer relations, fitness, medicine and accounting. All cruise staff must be able to communicate in English and knowledge of other Western languages is always an advantage.
Cruise companies usually employ career-changers, occasionally students and retirees. They are looking for quality candidates that:
Are experienced and dependable
Have an outgoing character
Offer excellent customer service skills
Are able to work well independently and as part of a team
Work quickly and efficiently whilst always maintaining the highest standards of service.
Those who have previously been employed on a cruise ship have an advantage as cruise lines prefer them. Some popular jobs (such as bartender, purser, tour staff, etc.) are often available only for experienced candidates, however, new people can sometimes get a position as a bartender if they show exceptional personal qualities during their interview. You really do need to stand out from the crowd with a bubbly vibrant personality.
Jobs on deck or in the engine room are usually difficult to get, unless your nationality is the same as the nationality of the officers. Most of the officers are Greek, Norwegian, Italian, British or American, but there are also Polish and Croatian officers on some ships. Many Filipinos are employed on deck and in the engine rooms.
Bear in mind that cruise ships are like hotels floating on water - you can't just go home at the end of the day and you live in the hotel. So you must be able to get on with others and have great people skills.