Feeding Guests and Crew
The Norwegian Getaway has no less than 14 galleys, one behind each restaurant, plus preparation galleys downstairs to keep Executive Chef Ricardo Pinheiro busy. Reporting to him are 235 chefs, six sous chefs, and one secretary.
Speaking with Cruise Industry News aboard a December cruise, Pinheiro added: "In addition to cooking, we have a lot of paperwork, complying with public health, safety and environmental regulations, controlling and handling waste, in addition to continuous training."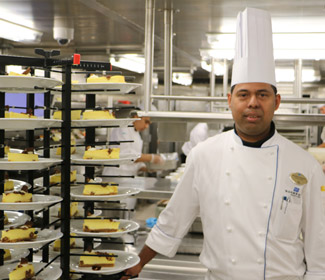 With more than 4,000 passengers onboard, the challenge is not how many people that need to be served every night, but how many want to dine at the same time, he said.
With crew from some 70 different countries aboard, ethnic foods are prepared for the larger national groups, like the Filipinos, Indians and Indonesians. In addition, more general European or South American dishes are served.
Also onboard were several Chinese crew being trained, including 14 in the galley, in preparation for the Norwegian Joy entering service in China.
Each cruise is planned in advance, with the executive chef and his team receiving a breakdown of the guests eight weeks out. "On the next cruise, we will have 2,124 non-U.S. guests," he said. "And I can plan for Europeans to eat more fish than Americans, and they prefer more white wine. Latin Americans are late diners and go after more red meat and red wine. Americans tend to eat early and want more starch – more potatoes. This all affects our ordering and preparation."
Read the full article on the Cruise Industry News website.