How Cruise Ship Work Develops Your Skills
Out on the high seas, with nothing but a horizon of blue around you and clear azure skies above, there's no job quite like cruise ship work to give you a unique and changing perspective on the world. Above the obvious benefits, though, there's a lot to be gained from being employed in a cruise liner business that is constantly introducing you to new people, places and cultures, and requiring a flexibility that you'll carry for the rest of your life. Here are some of the ways cruise ship work develops your skills.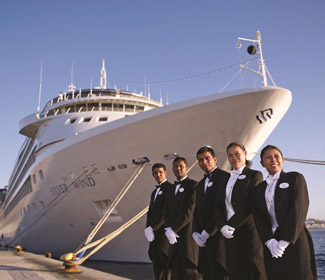 You'll Meet Unique People
Cruise liners attract the elderly, the adventurous, the hard-on-their-luck and the high-flying elite. The melting pot that is the deck on a sunny morning or the social areas at night will introduce you to a wide range of characters who all share one key characteristic - a penchant for marine exploration and a keenness for new experiences. You will develop social skills far beyond what you would in a retail job at home, and you'll make some friends for life dotted all over the globe.
It's a Varied Job
On a cruise ship, you're on your own little island of human activity for at least half of the journey. That means that every conceivable type of human mishap is probably going to happen over the course of your time working on big liners, and you'll be frequently called upon to help in a variety of interesting and one-of-a-kind ways. This will develop your flexibility and confidence, so that shore-based jobs are a doddle in comparison.
You'll Have Time for Your Own Work
While there's plenty of different jobs and duties you might be called to perform when working on a cruise ship, there's also a lot of down time with which you're able to do exactly what you want. All you'll need is a laptop and perhaps a blog, and you'll be able to use the liner's wifi to develop your design skills with an online banner maker, your writing skills by using experiences on board, or any other personal project which you've always had too many distractions to follow through on.
You See the World
Travel is becoming more and more of a sought-after addition to a CV. Why? Because it shows a confidence, street-smart, positive attitude combined with creative thinking and an adventurous spirit that's willing to push the boundaries. This is exactly what working on cruise liners will give you - you'll be bitten by the travel bug, which will open your life up to a deluge of beautiful experiences that you'll find serve to inform your life and job decisions further down the line.
A life working at sea can be profitable, fun, and pivotal in accelerating your personal development in a variety of ways. It's worth considering these four benefits of cruise ship work, so that if you ever come to consider branching out into the open ocean, you'll have an idea of all the challenges - and just plain fun - that lie in store for you.