Hurtigruten
Hurtigruten (Norwegian meaning The Fast Route) was formed in 1893 When the Norwegian Government decided to create a connection between the North and South of Norway, using Captain Richard With's steamer, DS Vesteraalen which was brought into regular service offering several weekly departures initially from Trondheimg to Hammerfext and later Bergen to Kirenes.

Famous for cruising around Norway, Hurtigruten also offer experiences to Antarctica, South America, Greenland, Iceland and The Canaries.
Today their fleet of 15 ships, ranging from Classic models to those built in the new millennium are a common sight along the coast of Norway, sailing from Ports all over the Country.
MS Fram
An expedition ship, build in 2007, the MS Fram sails to Antarctica and Greenland.
With maximum capacity of 318 passengers, they are assured of an intimate and personal cruising experience.
MS Midnatsol
With a maximum passenger capacity of 1000, this mid sized ship is know for it's 2 story panoramic lounge with gives uninterrupted views of the Norwegian fjords and coastline during the summer months.
Passengers enjoy 23 modern and stylish suites, with excellent service.
MS Roald Amundsen
Added to the fleet in 2018, MS Roald Amundsen is the first of two hybrid ships. Hybrid technology, combined with the advanced construction of the hull and effective use of electricity on board will reduce fuel consumption and CO2-emissions on the ships by 20 percent.
MS Trollfjord
With a passenger capacity of 822, this beautifully appointed ship provides a stylish and comfortable cruise experience enjoying the sights of Norway.
The beautiful panorama lounge and suites offer uninterrupted views.
MS Finnmarken
With a passenger capacity of 100, the MS Finnmarken is the only ship in the fleet with both a swimming pool and jacuzzi on deck.
MS Nordnorge
With a passenger capacity of 623, the MS Nordnorge has become famous in Norway after being the main venue for NRK's "Hurtigruten - Minute by Minute". For five and a half days, or 8,040 minutes, NRK broadcasted her sailing north from Bergen to Kirkenes; 3.2 million viewers tuned in to watch.
MS Nordkapp
With passenger capacity of 622, MS Nordkapp (North Cape) is named after a highlight of the Hurtigruten voyage, the northernmost point of mainland Europe, the North Cape (71°N) e, the northernmost point of mainland Europe, the North Cape (71°N). It has attracted explorers since it was named by Richard Chancellor who was passing the cape in 1553 while searching for the Northeast passage.
MS Polaylys
With a maximum passenger capacity of 619, the MS Polarlys is an elegant, stylish ship hung with Norwegian contemporary art.
There are uninterrupted views from every part of the ship, which gives passengers a unique cruise experience.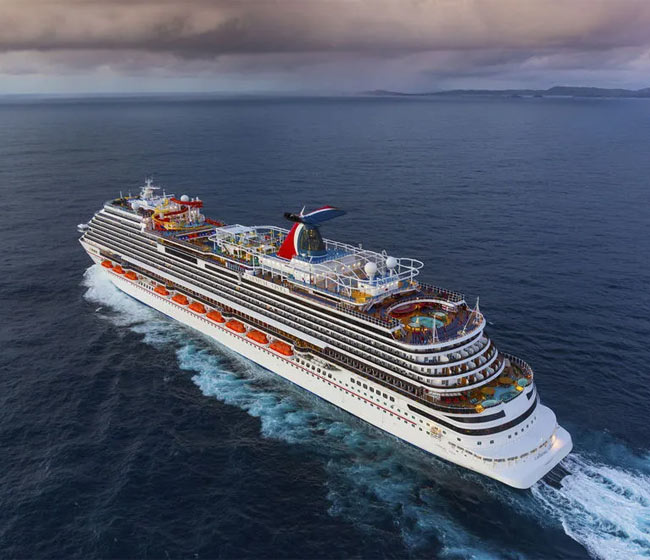 MS Nordlys
With a maximum passenger capacity of 622, Nordlys translates into Northern Lights the spectacular natural phenomenon visible in these waters between October and March.
Built in 1944, its décor is inspired by its namesake, the Northern Lights, which passengers can enjoy by relaxing in reclining chairs within the panorama lounges.
MS Richard With
Named after the founder of Hurtigruten, and with Passenger capacity of 623, this ship was commissioned in 1993, 100 years after the first Hurtigruten voyage.
Containing beautiful art, panorama lounges and junior suites, this is the perfect ship to soak up the Norwegian experience.
MS Kong Harald
With passenger capacity of 622, and named after the King of Norway, this beautifully appointed ship was also commissioned in 1993 to mark Hurtigrutens centenary.
MS Vesterålen
The smallest ship in the fleet, with maximum passenger capacity of 510, she went through a major upgrade in 1988 and 1995, and now boasts fantastic public areas displaying an extensive art collection and a panoramic lounge.
MS Lofoten
A veteran of the fleet, the MS Lofoten attracts regular return passengers who enjoy the original and unique style of this 1964 ship.
She underwent an extensive refurbishment in 2003, but retains her intimate and period atmosphere.
MS Roald Amundsen
First hybrid cruise ship, launched in 2019. It is named named after polar hero Roald Amundsen.
Employment Opportunities
Hurtigruten's business is highly seasonal and employment opportunities vary in line with that situation. Maritime employees work in shifts of 22 days on board, followed by 22 days ashore. For every day on board, you earn one day off. This means that you get paid for the 22 days that you are at home during your free period.
Would you be interested in working on board Hurtigruten's vessels? Find out more and apply directly on Hurtigruten's website.
To enquire about employment opportunities on board a Hurtigruten Ship, email your CV together with a covering letter to recruitment@hurtigruten.co.uk.
Contact Details
Hurtigruten
Havnegata 2, Box 43
8514 Narvik
Norway
Tel: +47 810 03 030