Interview with a former Royal Caribbean employee
Carol Williams has worked on cruise ships for 8 years. She has just returned home to South Africa. We asked her a few questions: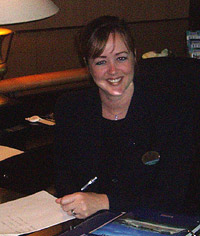 CSJ: Which cruise line did you work for and on which position?

Carol: Royal Caribbean International. I had a few different positions on board; firstly I worked in the Spa, then in the Gift shop and then as the Loyalty Ambassador (in charge of the Crown & Anchor Society for repeat guests and responsible for booking all future cruises).
CSJ:How did you find the job?

Carol: The first position I applied for was advertised in our local newspaper.
CSJ:Was the job interview difficult?

Carol: No it wasn't.
CSJ:Did you have any previous experience in a related field?

Carol: Yes I had, you do have to have certain qualifications, different requirements needed for different positions.
CSJ:What surprised you most when you joined the crew? Was there anything you hadn't expected?

Carol: There are about 48 nationalities in the crew! So many different cultures and everyone is from different walks of life, you meet such wonderful people. I think the atmosphere is great and everyone is extremely friendly and helpful. I have to say I went with an open mind.
CSJ:Is working on a cruise ship really so hard and demanding? Did you have some time to relax and have fun?

Carol: It is extremely demanding, but you will always have some time off no matter which department you are in. I have seen the most wonderful places.
CSJ:Can you briefly describe your typical day on a cruise ship?

Carol: Well it does start early but there again it does depend on your position on board, but my day usually began around 8am and finished at 8pm. Of course there are breaks in between! In my position I was constantly face to face with the guests so you have to have a happy face 24/7!
CSJ:Crewmembers come from many countries and cultures. Is it difficult to live and work with people with different backgrounds?

Carol: Sharing a cabin with someone for 6-8 months can be a challenge. I must say I was very lucky and always had wonderful cabin mates.
CSJ:Which qualities should everyone applying for a cruise job have?

Carol: You should be able to speak good English, be prepared to work hard work, be very dedicated and have passion for what you do. If you do this you will have the experience of a lifetime.
CSJ:Did you have a chance to see some nice places? Which one did you like most?

Carol: Yes you do have time to explore the ports of call and I have to say everywhere I have been has been amazing but I would have to say Alaska is just breathtaking. No photo could ever do it justice!
CSJ:Do you still keep in touch with some of your ex-colleagues?

Carol: Yes, lots of them.
CSJ:Overall, was working on a cruise ship a worthwhile experience for you?

Carol: It was the best thing that I have ever done and I would highly recommend it.
CSJ:What would be your top 3 advices and recommendations for those who are currently looking for jobs on cruise ships?

Carol: I would say if you enjoy adventure, are prepared for a challenge and have passion for people, go for it!
CSJ:Carol, thank you very much for the interview.