Entertainment Jobs on Cruise Ships
Entertainment jobs are the most sought-after positions on cruise ships: hosts and hostesses, cruise directors, cruise staff, disc jockeys, performers, shore excursion staff, etc.
Employees in the entertainment department deal with anything related to entertaining the passengers on board. Cruise lines are looking for enthusiastic extroverts with vibrant personalities to fill these positions.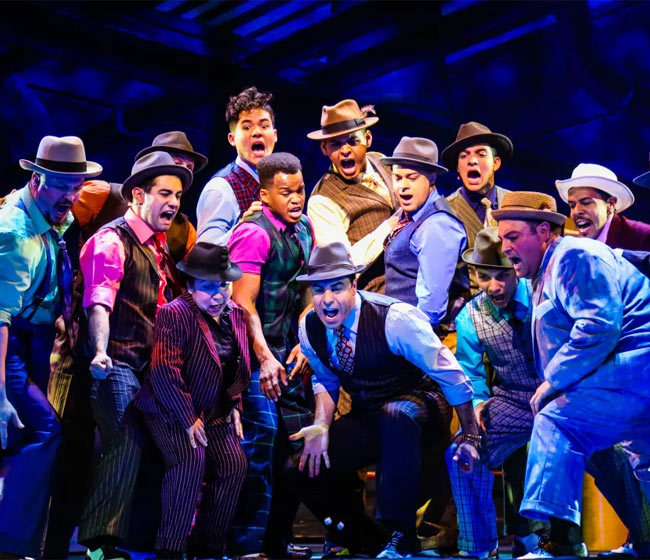 Entertainment Positions
Cruise Director
The Cruise Director is responsible for all onboard entertainment. The position involves supervising staff within the Entertainment department and some administration. Cruise Directors occasionally perform as well, so they must be good entertainers.
Previous experience in cruise ship entertainment is usually required. Ideally, the Cruise Director has some previous experience in a position of a Cruise Director Assistant or Cruise Staff. Salaries range from $4000 up to $7000 per month.
Assistant Cruise Director
The Assistant Cruise Director assists the Cruise Director in all his/her responsibilities: co-ordinating the passengers' activities programme, supervising Cruise Staff, etc. He/she is expected to socialise with passengers and participate in onboard activities. Salaries range from $2500 to $3000 per month.
Cruise Staff
These are entry-level positions within the Entertainment department, suitable for enthusiastic extroverts only. Cruise Staff are expected to socialise with passengers, play games, dance, call bingo numbers, get passengers involved in social and entertainment activities, assist them with luggage, provide customer service, etc. Occasional performance duties are required as well. Salaries range from $1800 to $2300 per month.
Disc Jockey / DJ
DJs work only at night. Good knowledge of various music genres from all decades is required. Previous experience in hotels is useful, as well as any additional experience with lighting and sound equipment. Contracts usually last 6 months. Salaries range from $1700 to $2000 per month.
Entertainer / Artist
Entertainment positions on cruise ships are extremely popular. All entertainers who wish to perform on cruise ships should prepare a media pack to showcase their work and acts. Entertainment Directors receive hundreds of media packs (profiles, portfolios, DVDs, CVs) a week - only the 'best of the best' get hired.
Guest Entertainer
Relevant training and previous experience in performing on stage (singers, magicians, dancers, comedians, etc.) is required. Salaries range from $3800 to $4800 per month.
Comedian
Comedians are required to have enough good material for at least 3 thirty-minute sets. Extensive experience of performing in comedy clubs is required. Salaries range from $1600 to $2400 per month.
Singer / Vocalist
This position requires extensive previous experience in performing on stage. Salaries range from $1600 to $3000 per month for an individual to $3000 to $7000 per month for duets and bands.
Dancer
Dancers perform on stage and help cruise staff in entertaining passengers off the stage as well. Experience in performing in front of the public is required. Salaries range from $1600 to $3000 per month.
Musician
Solo performance artists, usually pianists, are required. They provide background music in lounges, lobbies and dining rooms. Salaries range from $1600 to $3000 per month.
Activities Positions
Activity Co-Ordinator
The Activity Co-Ordinator organises social events for an organisation or a group of people. S/he should be a good planner and a well-organised person. Previous experience in a related field is a plus. Salaries range from $2400 to $2800 per month.
Dive Instructor
Dive Instructors guide passengers on diving excursions and provide diving instructions in the onboard swimming pool. All diving instructors are required to hold NAUI, SSI or PADI certificates, as well as CPR and First Aid certificates. Salaries range from $1700 to $2400 per month.
Shore Excursion Manager
Cruise lines offer their passengers short trips and excursions on land. Cruise staff are responsible for organising and selling these excursions. The shore excursion manager is responsible for supervising excursion staff, as well as promoting and arranging the excursions. Previous experience in tourism is usually required for this position. Salaries range from $2300 to $3600 per month.
Youth Counsellor
Also called child minder, babysitter and nanny. Youth counsellors are usually hired for the summer months only because families with children rarely take holidays during a school year. Many college students are hired for this position. Previous experience of childcare is desirable.
Casino Positions
Casino Staff
There are various positions within casinos on cruise ships. Previous experience from onshore or onboard casinos is required, usually a minimum of 3 years with a good knowledge of at least 2 games.
Casinos are closed while they are in a port - this leaves the casino staff plenty of free time for onshore visits.
Casino Manager
Responsibilities for the Casino Manager include accounting and managing staff. Previous experience in the role is always required. The salary ranges from $2400 to $4200 per month.
Casino Dealer / Croupier
Candidates for this position must hold a certificate from a casino school or at least 2 years' experience of the same position with a good knowledge of at least 2 games (blackjack, poker, craps, baccarat or roulette). Salaries range from $1600 to $2400 per month.
Casino Cashier
The Casino Cashier is responsible for receiving and paying out money in a casino onboard a cruise ship. Good cash-handling and record-keeping skills are required. This position involves a great degree of responsibility. Salaries range from $1400 to $2000 per month.
Slot Technician
This position involves the general maintenance and repair of slot machines onboard a cruise ship. At least 2 years' experience is usually required. Salaries range from $2500 to $2800 per month.
Social Host/ess Positions
Gentlemen Host
There are more female than male passengers on many cruises, especially on those with older clientele. Cruise lines hire retired single men who mix with the passengers and socialise with them.
Gentlemen hosts must be good dancers and familiar with all major formal social dances, such as the polka, waltz, swing, tango, foxtrot, etc. Hosts must be able to dance every night for many hours.
Most gentlemen hosts do not get any salary - they work for a chance to sail the world for free or just a very small wage.
Hostess / Host
This position involves greeting passengers as they board, assisting excursion staff, helping with arranging parties, payment processing, etc.
Hosts and hostesses must be extroverts who enjoy socialising with passengers. There are no strict requirements for previous experience. Salaries range from $1000 to $1500 per month.
Lecturer
Lecturers give public speeches and shopping recommendations on various ports of calls to the passengers onboard cruise ships. They often represent onshore stores. Lecturers work closely with cruise and excursion staff. Strong sales and public speaking skills are required. Salaries are often commission-based and range from $2000 to $4000 per month.