Online Test of Maritime English for Seafarers & Deck Officers
It is documented by the IMO that 25-30% of accidents at sea are due to linguistic and communication mistakes – most of them in radio communications. (Trenker, 2007; IMO, 2010) According to the IMO, there are 85,000 working vessels on the seas – carrying 90% of world trade. On average, two vessels are lost every week worldwide.
Virtual Training Centre saw a need to create a Maritime English test that assessed candidates' ability to understand the spoken word – largely over the radio; ship-to-ship and ship-to-shore.
For this reason, the Test of Maritime English for Seafarers and Deck Officers (CPD Certified) consists of a large proportion of listening questions (32 of the total 80 test questions) - which largely focus on radio communications and feature realistic effects such as storm noise and radio interference – in addition to a wide range of world accents speaking English. Listening questions consist of 40% of the test questions and are designed to be context rich and to simulate real-world scenarios.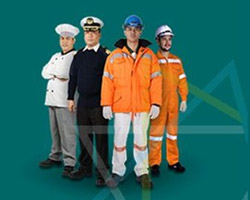 The English test follows the narrative of a ship at it prepares for embarkation, leaves port, navigates and ultimately finds itself in an emergency weather situation. The ship receives emergency help and makes its way back to port. The context and realism assist in the authentic testing of candidates.
Sound effects such as storm-noises, radio interference and static and international accents all contribute to providing a realistic testing environment.
Ship operators can be confident that candidates who achieve the pass-mark in will be competent and confident in the use of the English language at sea.
The Test is designed to assist ship operators and employers make recruiting and training decisions by assessing the English language understanding and skills of existing or potential seafaring personnel and is suitable for candidates of any rank or nationality.
The test is designed around the approved guidelines for Maritime English developed by the International Maritime Organization (IMO). These guidelines are combined with internationally-recognised methods for English language testing to form a rigorous and accurate testing system for use in the maritime sector.
Assessment level
The test assesses candidates' English language competence between the levels of 'Upper-Intermediate' and 'Advanced' (CEFR (Europe): B2 to C1 and ILR (United States): Level 2 to 3). A candidate at these levels will be able to understand and produce frequently used expressions relating to areas of most immediate relevance to the function of a Deck Officer on board ship.
TEST Subjects:
The test has been carefully designed around IMO industry guidelines and includes:
Comprehension of spoken and written emergency commands
Location and purpose of health and safety and emergency equipment
Ranks, roles and routines of crew members and other officers
Interactions with fellow crew members and officers
Ship and other General Maritime Knowledge
Navigation and Nautical Charts
Meteorology
Standard and Emergency Communications
Ship and Medical Emergencies
Ship Pilotage and Berthing
Cargo Handling and Operations
Virtual Training Centre (VTC) are an innovative training company who design and deliver accredited and bespoke 100% online training to the Maritime industry. Working with industry experts we ensure our content is of premium quality, engaging and up-to-date. VTC are approved by the UK Maritime and Coastguard Agency (MCA) to provide the following 100% online training courses:
VTC have provided online training courses in 42 countries in the last 12 months.