Paul Gauguin Cruises
Owned by Pacific Beachcomer SC, the leader in French Polynesia luxury destination resorts, Paul Gauguin Cruises operates the luxury cruise ship m/s Paul Gauguin, providing a luxury cruise experience of Tahiti, French Polynesia and the South Pacific.
The Gauguin is a small-ship cruiser's dream – with a capacity for 332 guests, and a crew of 217, she delivers travellers to intimate ports inaccessible to larger cruise ships, all while providing an onboard experience that is nothing short of luxurious.
Guests enjoy spacious suites and staterooms, an onboard watersports marina, three dining venues, and extensive spa and five-star service.
Life on board reflects the beauty and rich cultural heritage of the islands with a warm, genuine feel, informal setting and a beloved troupe of local Tahitians who serve as cruise staff, entertainers and storytellers.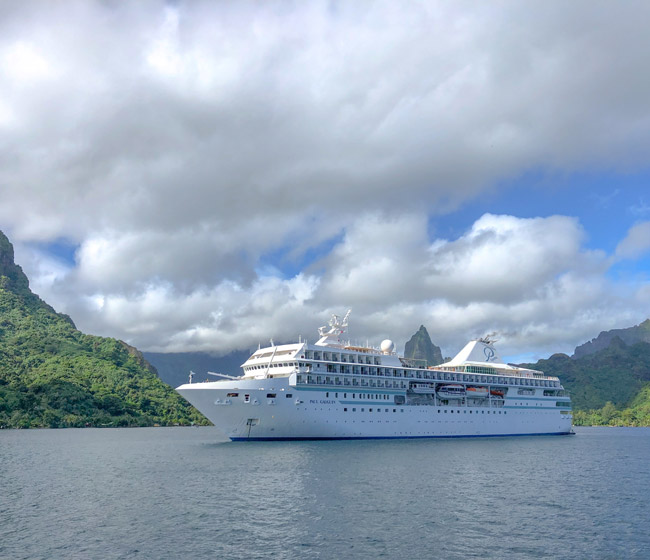 Jobs at Paul Gauguin Cruises
With one of the highest crew to guest ratios (1:1.5) The Gaugin is renowned for its exceptional service.
They look for staff members who are willing to dedicate themselves to the highest level of guest satisfaction and excellence. Joining their onboard team requires hard work and discipline, but is also uniquely rewarding and fun, as you cruise these wonderful destinations.
Only applicants with previous experience working on a cruise ship will be considered.
See current vacancies with Paul Gauguin Cruises on All Cruise Jobs.
Contact Details
Email: resumes@pgcruises.com
Headquarters:
Paul Gauguin Cruises
11100 Main Street
Suite 300
Bellevue
WA 98004
United States of America