Skype Interviews for Cruise Ship Jobs
Interviews via Skype are very popular with cruise lines and their authorised recruitment agents. Cruise ship job applicants need to treat a Skype interview with just the same importance as an in-person interview.
Along with being prepared to answer questions and being dressed appropriately, Skype interviews pose a few extra issues to be concerned with. Here are some tips to have a successful Skype interview for a cruise ship job.
Choose a professional sounding screen name
After you've downloaded Skype onto your computer, tablet or mobile phone, you'll need to create a Skype name. A Skype name acts like a phone number. Consider that it looks better to cruise line recruiters to use your real name rather than something too silly or inappropriate.
Avoid technical difficulties
Even if your computer has a built-in web cam, you may want to consider getting a higher grade web cam and use a headset or microphone to improve video and audio quality. A high speed internet connection is also a necessity. It is extremely important to test your headphone, microphone and web-settings. Get comfortable using it and if possible, conduct a practice interview with a friend.
Have a back-up plan
It may happen that during your Skype interview you lose your internet connection. Or you may have other issues with the technology. Prior to the interview have a plan of what you will do if you have technical problems. If possible, get the phone number of the interviewer prior to the interview just in case.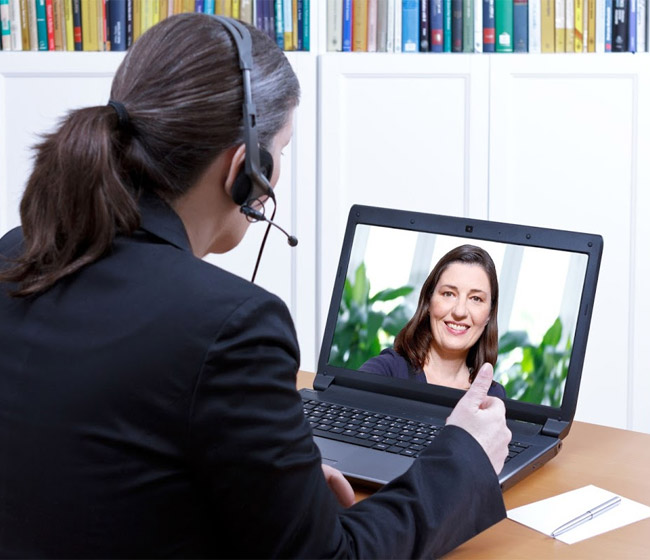 Dress for success
Just as you would for an in-person interview, dress professionally. Choose non-distracting clothing and style hair as per appearance standards for a cruise ship job. Additionally, just because the recruiter can't see you below the waist, doesn't mean you should wear pyjamas.
Prepare your background surroundings
What else will the recruiter see during the interview? Choose a quiet, well-lit, clutter-free environment. Also pay attention to your wall 'art' and take down distracting posters and knick knacks. Close the door to keep out pets, roommates and children, noting that flushing toilets and background music are also unwanted distractions.
Know the cruise line and the cruise ship job
Be ready to answer questions about the challenges of working on a cruise ship, questions related to the job description and details about your CV. Be confident with your answers and use good eye contact (FYI - look at the camera and not the screen).
You don't get a second chance to make a first impression
Maintain a comfortable smile throughout the interview and pay attention to your body language too. Thank the interviewer for their time and make sure to follow up with a thank you email as well.