The World
Whilst the prospect of a first-class world cruise would be the holiday of a lifetime for most people, for the lucky few it has literally become a way of life!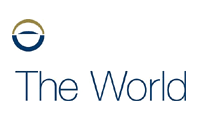 Introducing The World - a 5* residential cruise ship owned completely by its residents who currently hail from 19 different countries.
The World was born from an idea conceived by Knut U. Kloster Jr, who came from a long line of cruise industry workers. Built in Norway, with her hull built in Sweden, she was launched in 2002, with the residents buying her in 2003.
These residents number 130 families, who each own one of the 165 residential units on board. The units are made up of 106 apartments, 19 studio apartments and 40 studios. All of which have 24 access to the luxurious lifestyle enjoyed by residents of The World, as it continuously circumnavigates the globe.
The World's resident owners either reside on-board permanently, or visit the ship as and when they wish throughout the year, meeting the ship when it is in dock.
It's yearly itinerary is determined 24 months in advance, and compiled by a team which includes the Resident Itinerary Committee, Captains and Director of Itinerary and Destination Planning.
On top of buying the residence, there is also a monthly home-owner fee to cover meals, maintenance, crew and fuel charges - all of which ensures a luxurious on-board lifestyle for the wealthy residents.
On-board amenities include a full sized tennis court, casinos, heated pools, spas and fitness centres, bars, restaurants and high-calibre entertainment. With two crew to every one passenger a top-class personalised service is guaranteed.
Operated by ResidenSea, with Head Quarters in Miramar, Florida, The World flies under The Bahamas flag, and has a full-time crew of 250 qualified staff.
Employment
For employment opportunities on The World, please visit their careers website.
Also, check the latest vacancies on All Cruise Jobs.
Contact Details
The World
14471 Miramar Parkway
Miramar, FL 33027
USA
Tel: +1 (954) 416-3644