Using Social Media to Get a Cruise Ship Job
December, 16 2013
3 min read
Gone are the days of just sending out your well-crafted resume to a cruise line recruiter and expect that you'd get contacted for an interview. Now your online profiles are just as essential as your resume. It's time to consider how to take advantage of social media sites since they can increase or eliminate your chances of getting hired to work on a cruise ship.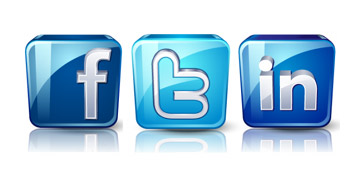 Many companies regularly look up job applicants online as part of the hiring process.
In early 2013, Jobvite announced the results of its annual Social Recruiting Survey. This recruiting platform for the social web reported that 94% of recruiters rely on social recruiting. The report affirms that LinkedIn, Facebook and Twitter continue to be the most used channels by recruiters.
As an experiment, Google your own name. What comes up in a Google search? What are you presenting to potential employers who may Google your name and click on a link to your personal information?
Facebook
Starting with Facebook, there's so much information that some people reveal about themselves online. Do you really want potential employers to browse through your albums and personal updates? Even Facebook tells users to protect the privacy of their photos and status updates. Therefore, as a precaution, under your privacy settings, choose "Friends Only".
Another use for Facebook is to "like" Facebook pages of various cruise lines, agencies, or concessionaires. Many of them routinely post information about interview dates and auditions. Here are a few examples: Carnival Entertainment, Disney Cruise Line Jobs, Royal Caribbean Jobs.
Of course, you can "like" our own Facebook page to get cruise career advice and tips: Free Guide to Cruise Ship Jobs.
Another useful Facebook page is All Cruise Jobs, industry's largest job board with hundreds of cruise job vacancies.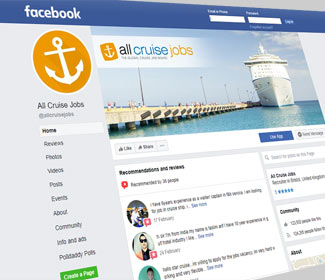 LinkedIn
Another powerful social media tool for landing a cruise ship job is LinkedIn. LinkedIn is a more professional social website than Facebook and is not a place to share non-professional information. This a great site to create an online resume and profile (just make sure you complete it). It is also an effective website to look up the names of cruise line human resource.
Twitter
The third popular social media website is Twitter. But, using your 140 characters to carelessly self-promote or report about your bagel and cup of coffee is a huge turn off. Optimize your Twitter profile by using your real name and providing a link to your online resume (LinkedIn). Your bio should say something about who you are, such as "Event Planner with 5 Years Experience" or "Energetic YMCA Volunteer Seeking Cruise Ship Job".
When looking for Twitter accounts to follow, consider the following cruise industry handles.
Once you start using Twitter in a productive way, the use of hashtags and links to your online resume can be used to help you land your dream cruise ship job. For example:
"I've updated my #resume and I'm looking for a #CruiseShipJob as an #EventPlanner http://linkedin.com/MyProfile #jobs".