Working on a Cruise Ship at Christmas
December, 20 2019
4 min read
Christmas is an increasingly popular time for people to get away from it all, and cruising is a great choice – to escape the stresses, strains and general busy-ness of a Christmas at home, to enjoy a much more relaxing time (no peeling sprouts or washing up in sight!), and of course to seek out some glorious winter sunshine.
Holidaying at Christmas gives the whole family time to relax and get into the festive spirit and spend that much-needed quality time together. And with no need to return to work in between Christmas and new year (without having to use up too much of your annual leave) you can enjoy a nice long break.
Whilst this is wonderful for all the guests, spare a thought for the hard-working staff and crew on board, who are going above and beyond to ensure that all their guests have the most special day and holiday...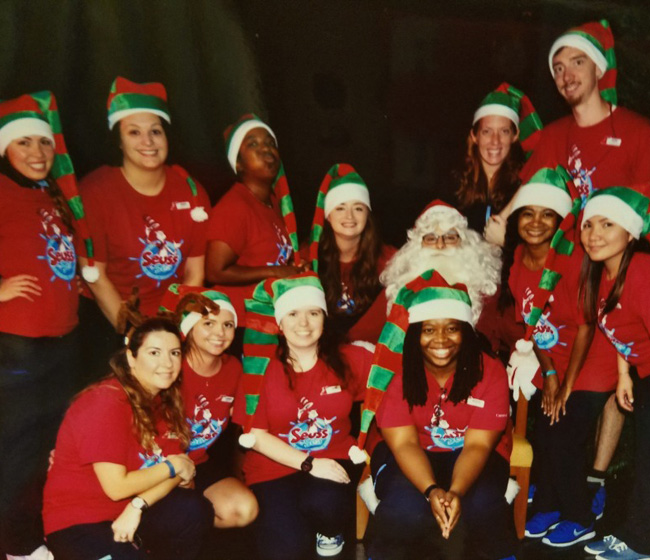 What to Expect on a Christmas Cruise
Cruise lines put on something a little extra special over the Christmas period, keeping guests entertained and in the festive mood. Every cruise line will offer something slightly different, and this will also depend on the length of the cruise, the exact itinerary and where the ship will be sailing.
Christmas Shows and Activities
Special festive shows performed by the crew will feature on many cruise ships over the season, packed full of cheesy songs and jokes, and good, light-hearted fun for all the family. Musical performances, plays and nativities are also par for the course. Festive choirs do the rounds on many ships during the Christmas period, really helping to get guests into the spirit on the run up to the big day. Other seasonal activities may include: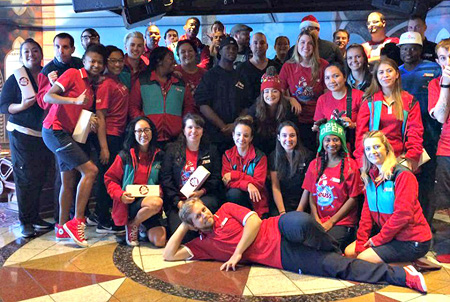 Christmas craft projects, such as making cards or ornaments
Gingerbread displays or decorating activities
Christmas jumper contests
Caroling parties or holiday music from deck musicians
Visits from Santa Claus, Mrs. Claus or other seasonal celebrities
Christmas bedtime stories
'Snow' celebrations on deck or in a large atrium
Seasonal films offered on poolside theaters or in-cabin televisions
Religious services or non-denominational Christmas services
Christmas Dinner
Obviously one of the most important aspects for many people is the traditional turkey dinner and the major cruise lines take food very seriously. All the traditional trimmings are available alongside perfectly cooked meats, roasties, gravy, sauces and sprouts! And the best bit is there is no mountain of washing up to tackle afterwards!
Christmas Decorations
Most cruise ships receive a festive redesign in the run up to Christmas, with all the classic decorations and fairy lights adorning the atrium and main public spaces of the ship – with a massive Christmas tree serving as a wonderful centrepiece.
Christmas Crew
It is important to remember that cruise lines do not sacrifice their attention to detail and luxury service during the holiday season – as a guest you'll still be treated to attentive service, delicious gourmet food, exciting entertainment, exotic ports of call, relaxing spa facilities, state-of-the-art gym equipment and a full schedule of activities such as trivia contests, craft projects, cooking demonstrations, casino tournaments, deck parties, poolside games and more.
But the staff on board are sacrificing their Christmas and spending time with their families to look after the guests and make their Christmas extra special. It can be hard to keep a smile on your face when you are missing your loved ones at home.
Thankfully as a staff member you will be kept very busy which should help keep your mind off missing your family – and you will schedule in an alternative Christmas Day when you get back. There is a good atmosphere on board and you will probably have formed fantastic friendships and relationships with your colleagues on the ship.
All ships will offer a Christmas dinner for their crew and most will offer a religious service of some kind. There is often a crew party for New Year's Eve.
Other ways to make yourself feel Christmassy:
decorate your own cabin
wear a Christmas jumper
do a 'secret santa' with some of your work colleagues
A Merry Christmas and happy and successful new year to all the crew members working on board this Christmas!