Opportunities for Women in the Cruise Industry
Traditionally a male-dominated industry, the cruise ship world is gradually changing to attract a more gender-diverse workforce.
While the sector has come a long way from the earliest voyages (when nautical folklore believed that having women on ships could bring bad luck by distracting the crew and angering the sea gods into stirring up stormy weather!) the profession is still very male dominated with an estimated 2% of seafarers worldwide being women (and very few in the more technical roles), with between 18 and 20% in the cruise ship industry.
A cruise ship is essentially a workplace at sea with hundreds or thousands of crew onboard. Gender diversity is as critical to a ship as it is to any other business on dry land - it encourages teamwork and creativity, and brings with it a range of skills and perspectives for better, more informed, and even faster decision making.
A huge untapped resource for cruise lines is the recruitment of women and there is a need to create more role models within the industry who will inspire new generations of young professionals to join.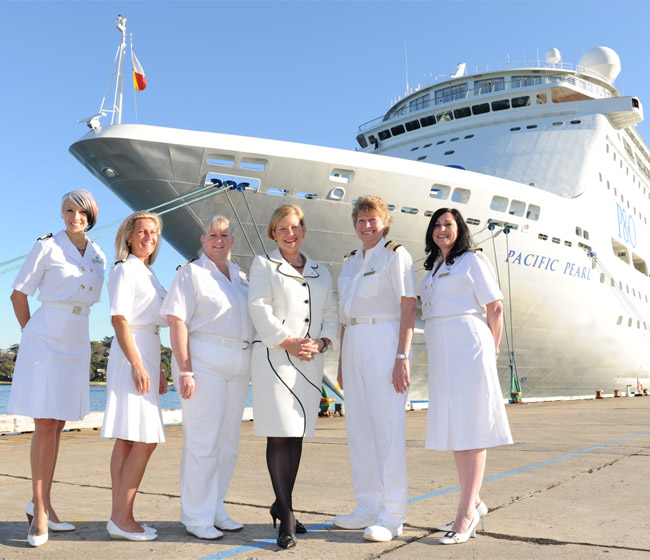 More Female Captains
For the first time in the cruise industry, more women are starting to take the helm. Depending on the cruise line, between 5 to 22% of cruise ship officers are women which is an improving statistic.
The first woman appointed captain of a cruise ship was Karin Stahre-Janson of Sweden, who took command of Royal Caribbean's Monarch of the Seas in 2007.
Other lines that have added their first female captains include: Cunard (Inger Klein Thorhauge), P&O Cruises (Sarah Breton), Windstar Cruises (Belinda Bennett, the industry's first black female captain), Sea Cloud Cruises (Kathryn Whittaker), AIDA Cruises (Nicole Langosch), and Silversea (Margrith Ettlin). Luxury line Regent Seven Seas Cruises announced that its newest ship, the Seven Seas Splendor, set to debut in 2020, will be the first brand new cruise ship to have a woman, Serena Melani, as its first master (the captain's captain and the ultimate authority onboard).
Celebrity Cruises now leads the industry, with women accounting for 22% of its bridge teams. The Celebrity fleet of 13 ships counts two female masters - McCue on the Celebrity Equinox, and Nathaly Albán on the Celebrity Xploration - and two female staff captains, Wendy Williams and Maria Gotor, as well as many more at other officer levels.
The numbers of women on cruise ship bridges is only expected to grow and a Women Offshore organisation has been created to foster and support female interest in maritime professions – its mission is to offer 'virtual mentorships' which are a free resource for any woman within the maritime industry.
New Initiatives
New cruise line Virgin Voyages is actively recruiting women to the bridge of their first ship, Scarlet Lady, due to begin sailing in 2020. Virgin recently announced that its recruitment drive for the 'Scarlet Squad' will focus on recruiting female shipboard staff, particularly in roles which currently have few female personnel, such as marine, technical and hotel management positions. They aim to create an onboard environment that is fair, inclusive and where everyone has the opportunity to reach their full potential.
Disney Cruise Line has also launched a range of new initiatives to encourage, inspire and empower girls and young women to pursue a career in the cruise industry. The debut of 'Captain Minnie Mouse', new nautical youth programmes focusing on fun STEM (science, technology, engineering and maths) skills and activities, and sponsored scholarships at the LJM Martitime Academy are all designed to encourage more females to apply for work and to inspire the next generation of female leaders in the industry.
With 2019 set to be the biggest year to date for new cruise ships there's never been more opportunity for both men and women in the industry.