Star Cruises
Star Cruises is a large cruise line operator in the South East Asian region.
Company Background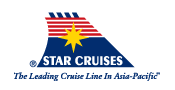 The company is owned by Genting Hong Kong Limited (which was known previously by its company name Star Cruises Limited). Its change in company name is reflective of its diversification into land based leisure activities. The Genting Group also own a 50% share of Norwegian Cruise Lines (NCL), along with Apollo Management and TPG. Star Cruises together with NCL represents the third largest cruise line in the world.
As well as excelling in the cruise line industry, the Genting Group is also a dominant player in the land based leisure, entertainment and hospitality industry. World Manila Resort, its first flagship joint project with the Alliance Global Group, has made a successful entry into the land based entertainment industry. The Resort is comprised of a range of hotels and restaurants, shopping mall, cinema complexes, performing arts theatre and a casino.
Star Cruises offers cruises to Malaysia, Thailand, Singapore and Hong Kong. Its early move into this region over a decade ago has allowed it to build a dominant position. This style of cruising has brought increased tourism to countries in this area, as vacationers have gotten a taste for this relaxed form of holiday making. Its popular fleet in South East Asia include the well known Superstar Leo, Virgo and Aquarius cruise ships. Star Cruises has received many prominent travel awards, including multiple prestigious TTG Travel Awards for best cruise operator in the South East Asia region.
As a person who has traveled on the Superstar Leo and Virgo, I experienced first hand the friendly and relaxed atmosphere on board. I found that the staff consistently provided great customer service, no matter what activity or what time of the day it was. As well as working hard and being diligent in their duties, employees also appeared to enjoy the camaraderie with their colleagues, and had fun on the job.
Jobs Opportunities at Star Cruises
Star Cruises has made substantial investments in its cruising fleet and associated infrastructure, and continues to experience good growth. As such, employment opportunities with Star Cruises are favourable. Star Cruises offers its employees a good range of job opportunities in the hospitality field across its large fleet. Onboard positions that may be available include working on the decks, in the engine department, hotel operations, or in the food and beverage or housekeeping departments. There may also be jobs working in the galley, the photo department, the gift shops department, in entertainment, or in the casino.
Contact Details
1528 Ocean Centre
5 Canton Road
Tsimshatsui
Hong Kong
Tel : +(852) 2317 7711
Fax : +(852) 2317 5551
Related Links