Start-up Cruise Lines with Second-Hand Ships
Several start-up projects within the cruise industry using second-hand cruise ships have been recently announced.
Cartoon Network
The popular TV channel primarily broadcasting children's shows plans to offer sailings on a Cartoon Network branded ship later this year from Singapore. Perhaps a direct competition to Disney Cruise Line?
Cruise Retirement
Cruise Retirement, planned to launch in 2019, will provide an alternative lifestyle choice to people of the 50+ age group that would like to travel extensively. Customers will have the opportunity to reside onboard a cruise ship and travel as much as they want.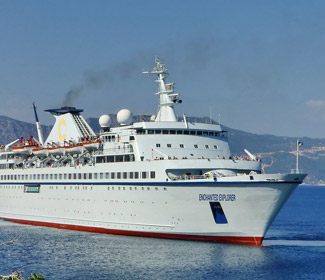 Storylines
Storylines plan to refit well loved commercial cruise ships into residential communities at sea. Cabin-condo owners are invited to join a unique lifestyle of freedom and comfort aboard luxury ocean liners that travel the world continuously.
South Korea
South Korea announced financial incentives to help drive cruise tourism in the country. It is also hoping to help finance a cruise operation which would sail from South Korean ports. The Glory Sea was chartered to the Golden Bridge Cruise Company, a Korean tour operator, to sail a series of cruises from Sokcho.
Russia
The Far Eastern Federal District in Russia is working with key parties to establish a one-ship cruise line that would homeport in Vladivostok, operating itineraries to Sakhalin Island and the Kamchatka peninsula and south to neighboring countries.
South America
Alteza Cruises couldn't make its South America start-up happen. Howeve, according to Cruise Industry News, a new group has formed with a similar business plan. More information will be available later.