German Cruise Lines Restarting Operation in Summer 2020
Leading German cruise lines TUI Cruises and AIDA Cruises announced they will restart operation in July and August 2020.
TUI Cruises
TUI Cruises announced it will restart operations with the Mein Schiff 2 on July 24, sailing a three-night weekend cruise to July 27, and cruising in the North Sea, with the ship sailing roundtrip from Hamburg.
Occupancy aboard the 2,900-guest premium ship will be reduced by 60% to 1,740 guests.
"The health and safety of crew and guests is a top priority for TUI Cruises. That is why TUI Cruises has again strengthened the strict measures that have always been in place to prevent the spread of viral diseases," the company announced.
The Mein Schiff 1 is expected to follow suit in early August from a different German homeport.
Job Opportunities
Recruitment for TUI Cruises is carried out by sea chefs - view the current job vacancies here.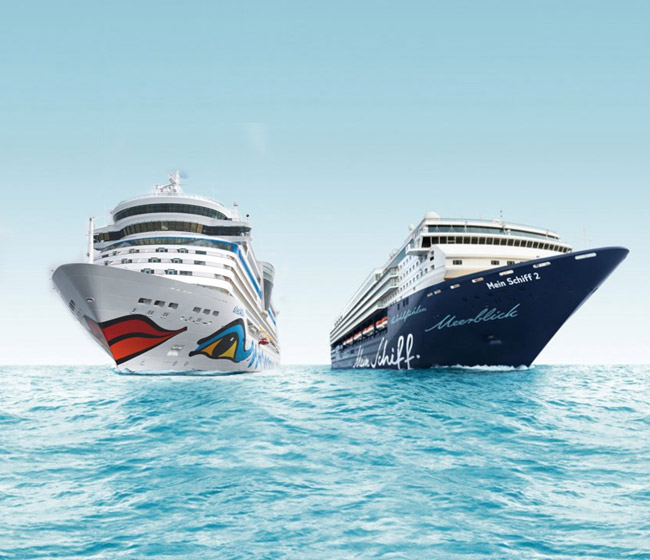 AIDA Cruises
AIDA Cruises, Carnival Corporation's German brand, will offer cruises in August on three ships. The sailings will leave German ports and will not dock at any transit ports. The ships won't be at full occupancy.
The AIDAperla will be the first to set sail on August 5 from Hamburg, followed by the AIDAmar from Rostock-Warnemünde on August 12 and the AIDAblu from Kiel on August 16.
AIDA has introduced a variety of preventive measures to complement existing health and hygiene standards, the company said. These measures range from the digital health questionnaire prior to the cruise, to temperature measurements before check-in for guests and crew, to physical distancing guidelines and routing systems on arrival and departure and onboard, to closely managing capacities at venues such as restaurants, bars, theatres, sports and spa areas, the company said.
The enhanced protocols are supplemented by additional hygiene and safety measures, such as increased cleaning and disinfection measures, which take place in all cabins and public areas according to a defined protocol, as well as additional disinfection dispensers at check-in and onboard.
Onboard medical care for all guests and crew is available around the clock.
Depending on the opening of further European ports for cruise ships, the first foreign destinations could be integrated into the itinerary.
Job Opportunities
View AIDA Cruises' current job vacancies on All Cruise Jobs as they are published by the company.