AIDA Cruises
AIDA Cruises is the largest cruise liner in Germany and is headquartered in Rostock.
Since the first AIDA ship was launched in 1994, the company has gone from strength to strength and AIDA Cruises is one of the fastest growing and commercially successful tourism businesses in Germany. As part of the Carnival Group (along with other well known brands such as Carnival Cruise Lines, Holland America Line, Cunard Line, Princess Cruises, Seabourn Cruise Line and Costa Cruises) they continue on this path of growth by investing in their future: by 2023 the fleet will expand to include 16 state-of-the-art cruise ships.
AIDA's ships sail all over the world: from North America, Northern Europe, Western Europe, Southeast Asia, the Canary Islands and the Mediterranean, to the Caribbean, Baltic Sea, Red Sea, Black Sea and Dubai.
AIDA has a unique tradition whereby each of its ships is baptised by a special 'grandmother' before setting sail on its maiden voyage. Perhaps the most famous 'grandmother' is the supermodel Heidi Klum, who blessed the AIDAaura prior to its presence at the 2004 Olympics in Athens.
Around 15,000 staff from 50 countries are employed with AIDA – 13,500 on board the ships and 1,500 on shore in Rostock and Hamburg.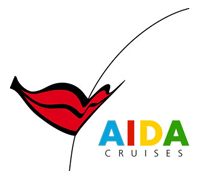 Jobs at AIDA Cruises
AIDA's employees are the basis of their success and they support employees with training and further education that is specially geared toward the cruise ship industry. The courses are held on shore and at sea, at international training centres, and online.
People can build careers exceptionally quickly at AIDA – provided they have the qualifications, ambition, and commitment.
AIDA provides their crew with the opportunity to live a balanced life with exciting recreational activities. On board there is a crew sauna, a crew pool, a crew fitness studio and a crew bar.
The working environment of a cruise ship is diverse and colourful, and their motto is 'For the Best Time of Your Life!'.
AIDA offers:
highly interesting positions on board luxurious and modern ships
excellent career prospects
international contacts
the unique opportunity to discover the world in your free time
The onboard language is German so a command of German would be an advantage. Job opportunities may be found in the areas of entertainment, engineering and technology, hotel and gastronomy, guest services, retail shops and shore operations.
Contact Details:
AIDA Cruises
Human Resources Management
Am Strande 3d
18055 Rostock
Germany
Related Links: