Spa and Beauty Positions on Board Luxury Cruise Ships
There are so many opportunities to find work at sea if you are already a qualified professional in beauty, health or fitness.
Most beauty salons and spas on-board cruise ships are run by concessionaires. They offer a range of services including hair styling, massages and various beauty treatments.
A variety of sport and fitness activities are available on cruise ships, including swimming, golf, yoga, pilates, gyms and wall climbing.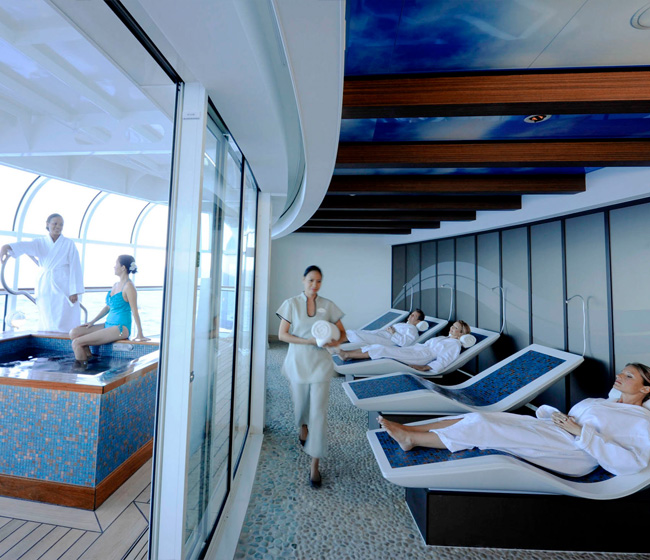 Introducing Steiner Leisure
The largest and most renowned company that operates spas at sea is Steiner. They have been synonymous with quality spa and salon services at sea for over 50 years. Steiner is the chosen spa operator on board over 16 luxury cruise lines including Carnival Cruise Lines, Disney Cruise Line, Princess Cruises, P&O Cruises and Cunard, Royal Caribbean Cruises and Norwegian Cruise Line – to name but a few.
They employ over 2000 spa professionals every year to travel while they work. It's hard work, but if you love your chosen profession and love to travel, then working at sea could be the perfect opportunity for a rewarding career. Contracts tend to be from 7-9 months and many Steiner employees stay for one or two contracts, but a core group remain for much longer – 20 or even 30 years. Steiner claim that 'most staff can get a job anywhere after working at sea with Steiner'.
For luxurious spas and wellness centres on board cruise ships they hire:
massage and beauty therapists
fitness instructors
acupuncturists
hairdressers
nail technicians
spa receptionists
Spas at sea tend to be in prominent positions on board, normally at the top of the ship, and are the same as resort spas on land – luxurious and spacious and offering state of the art facilities. Spas and team sizes are proportionate with the size of the ship, ranging from teams of 5 on the more exclusive ships to teams of 46 on the largest ships.
Normally cruise ship spas are very busy, especially on sea days when you can expect back-to-back appointments. Most staff are able to earn more money at sea than they would earn on land, and they don't have any living costs whatsoever whilst on board.
Steiner has over 40 different nationalities working for them. They have an annual calendar of global recruitment interview dates – check out their website for all the details.
View and apply for the latest job vacancies with Steiner on All Cruise Jobs.